If you've ever seen a mixed martial arts (MMA) fight, you've probably noticed the athletes' impressive physiques, which are largely due to their intense training regimens and nutritional habits. While you may not have time to train as intensely as a professional athlete, you can incorporate some of their strength-training moves into your workouts and start developing a notable six-pack of your own.
Here are five exercises that I use with the professional MMA athletes that I work with on a weekly basis.
Side-lying T-spine Circles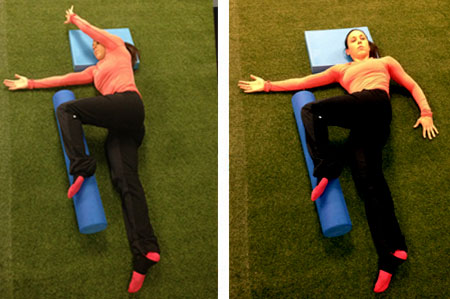 I always recommend some sort of dynamic warm-up/movement prep before starting a strength-training workout. I use this exercise with the majority of my clients, regardless of their profession. My MMA athletes are typically tight in the upper back from the various positions in which they put their bodies. For the "desk jockey" who spends hours a day at a desk, tight upper-back muscles are also common, as sitting for long periods of time wreaks havoc on one's posture. To help combat poor posture, you need to facilitate thoracic spine extension and rotation with movements like this one.
To begin, lie on your side and draw your top knee up to 90 degrees using a foam roller or medicine ball. Bring your hands together out in front of you and begin the movement by turning your top hand over and sliding it along the ground, up and over your head. The goal is to keep the back of the hand as close to the ground as possible throughout the entire movement. Once you reach your butt, reverse the movement and slide your hand back around the head to the starting position. Perform eight to 10 circles per side.
Sprawl (Can be done with or without a medicine ball.)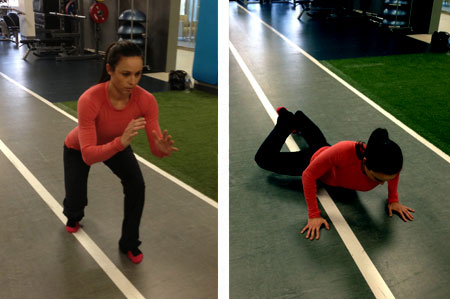 Place both hands on the ground and jump back into a sprawl or burpee position. When working with my MMA athletes, I cue them to get their hips down quickly and low to the ground. For the general fitness enthusiast, jumping back into a push-up position is another great option. Reverse this movement and as you come up, perform a jump straight up into the air, using your arms to assist in the movement. Immediately drop back down and repeat for the desired number of repetitions.
Bear Crawl

Starting with hands and knees on the ground, move your opposite arm and leg forward at the same time. With control switch sides, alternating this cross-body pattern for the desired distance.
Sit Out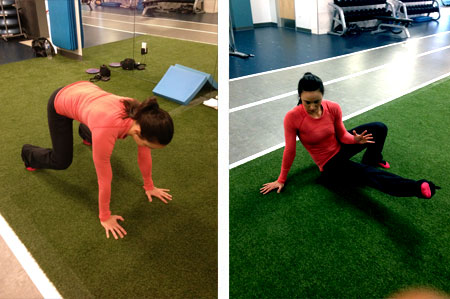 From the top of a push-up or hands-and-knees position, rotate your torso and sweep one leg underneath your body, extending it out on the opposite side. I make sure to cue my MMA athletes to keep that top elbow tight to the ribs at this point of the movement. Next, pull the leg back through and return to the starting position before repeating the movement on the other side. For an added challenge, a push-up can be added to this move.
Complex Inchworm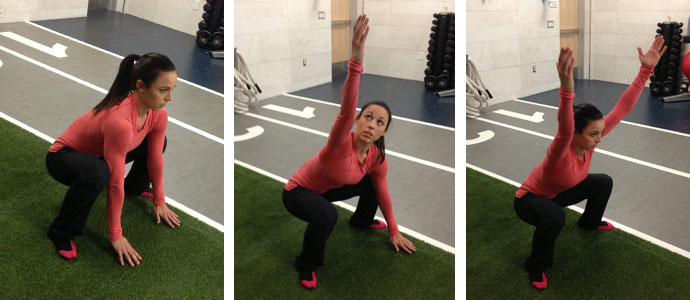 I call it the "complex" inchworm because it's really a combination of a few movements. Start with your feet together and bend from the waist as you reach your hands to the ground. Perform an 'inchworm' movement by walking your hands out until you are in a push-up position. From here, rock your body back slightly and jump your feet up to the outsides of your hands. Sink your butt down as low as you comfortably can for a great groin stretch, and then raise one arm overhead as high as possible, trying to draw your arm back so that it is in line with your ear. Lift the other arm in the same fashion and stand up. Lower your arms and repeat the whole sequence for five to six complete repetitions.
A lot of these movements work the front side of the body, so if you are including these into your workouts be sure to balance your routine out with some back side movements such as rows, deadlifts and/or pull-up movements. A balanced, full-body approach is the safest and most effective way to get stronger, move better, feel great and get in fighting shape.
Ready to put your fitness to the test? Find out if you can go three rounds in this MMA workout.