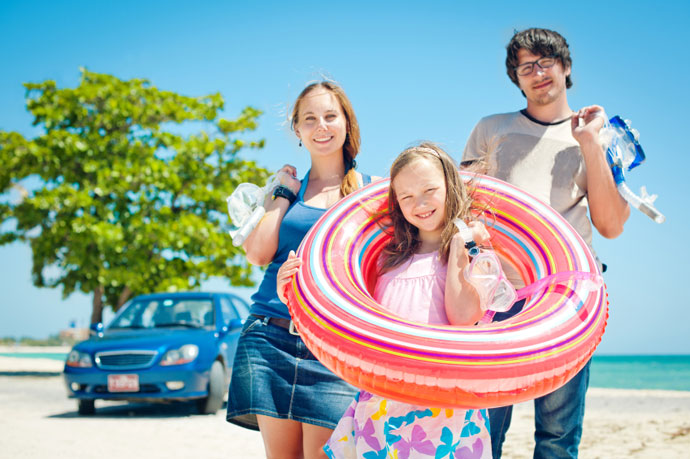 Summertime travel is a great way to expose the kids to new cultures and customs, increase the family bond and rejuvenate. It is also a time when many families struggle to keep up their healthy habits while still having a great time. Here are a few tips for fun and healthy summertime travel with the kids.
1. Maintain your commitment to health (but be more flexible about it).
It is not uncommon to throw efforts to eat healthy and be active by the wayside during vacation and figure, "Oh well, it's vacation, we can eat whatever we want (or is most readily available)." While it's appropriate to be flexible, if you completely abandon your previous efforts to eat healthy (and help the children eat a healthier, more balanced diet), then the work you'll have to do when you get home will multiply. The longer the vacation, the more pronounced the consequences.
Instead, keep these two basic principles in mind while you enjoy your vacation. First, eat when hungry and stop when full. Very basic, but this will help avoid a lot of weight gain and guilt during your trip. "Allow" yourself to enjoy the types of food that you want to eat, but pay a little extra attention to portion sizes. Second, aim to optimize the number of steps you take every day. That may mean walking to the beach where you will hang out all day, taking an evening stroll through the vacation town, or making sure to include at least a few minutes of active time for the kids each day.
2. Pack ahead for plane trips and long car rides.
Choosing snacks for travel can be tricky—parents want to pick snacks that are healthy and that the kids will like. While it is not advisable to use food to entertain or calm a child, the reality is that it is often necessary during long trips. Most convenience and easily packaged foods are not healthy and are usually high in sodium, sugar, saturated fat and/or calories. To avoid falling into the convenience-food trap, plan ahead to bring fun foods that your kids like and that are also healthy. How about some edamame or mandarin oranges? Other ideas include nuts (depending on your child's age as these may be choking hazard for younger kids), raisins, carrot sticks and hummus, whole-grain crackers, apples, jerkey or Cheerios.
If the trip will be long, consider preparing a "bagged lunch" for the kids to make sure that they don't end up snacking on convenience foods or eating at the airport restaurants, which are usually unhealthy and expensive. Also, make an effort to avoid heavily processed foods and snacks that are typically marketed toward kids (like "fruit" snacks and many types of crackers and chips).
3. Be ready for the most common travel troubles.
Jet lag, altitude sickness and diarrhea top the list of common travel-related ailments. You can help decrease the irritability, tiredness and insomnia that can accompany jet lag by getting the family on the destination schedule as quickly as possible. That is, change your watch to the time of where you're headed and try to plan for meals and sleep times on a schedule that would be appropriate in that time zone. If you're headed to a higher altitude, try to get up there slowly if possible (for example, if you're headed from sea level to the Colorado mountains, aim to spend a night in Denver rather than going straight to higher elevations). If that's not possible, make sure to drink lots of fluids. You may even consider talking with your doctor to see if a medication such as acetazolamide, which helps prevent and decrease symptoms, would be good for you or your kids. If you're headed to a developing country, the risk of diarrhea is high. Teach your kids about good hand hygiene; avoid fruits, vegetables and tap water from unreliable sources; and choose foods less likely to be contaminated, such as those that are cooked at high temperatures and go directly from the oven to your plate before serving, rather than being handled by restaurant employees.
4. Immerse yourself in the culture.
Take advantage of the opportunity to expose your family to new and interesting foods that are customary to the place you are visiting—whether the location is across continents, a few states, or just a few hours' drive.
For example, I've been fortunate to take my kids on some interesting trips. As part of a medical rotation, we spent one month in Costa Rica. Instead of bringing our own American habits there, we aimed to adopt the eating patterns of the locals. We purchased a Costa Rican cookbook and every night prepared one of the recipes. By the end of the trip, our kids had eaten gallo pinto (rice, beans, tomatoes, onions, cilantro, among other fresh vegetables), arroz con pollo (rice and chicken), a whole lot of hearts of palm and a variety of other local dishes. We also visited the local farmers market every Sunday. Our kids got to try out all kinds of exotic fruits and vegetables. My then-3-year-old son learned that he really loves what he called "hairy strawberries" (mamones chinos), while my one-year-old daughter couldn't get enough of the papaya.
5. Include active trips in your long-term vacation plans.
While heading out to relax at a beach or gain a cultural immersion in new city or country are great trip ideas, make sure some of your long-term vacation plans also include active adventures, such as a trip to one of the many wonderful National Parks. (My family recently visited Yellowstone National Park and had a blast, and we can't wait for Yosemite in the fall.) The outdoor experience is a great way for the whole family to tune out the everyday hustle and bustle and instead pay attention to nature. Even if you're not big on hiking and camping, there are many other options for active travel, including walking tours, scuba diving (kids as young as 12 can take lessons to learn how), sailing, surfing and skiing.