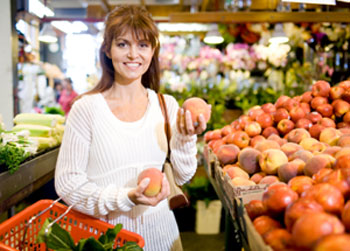 A trip to your local farmers market promises to bring a colorful array of delicious, nutritious, inexpensive, and locally grown fruits and vegetables straight from the farm to your kitchen table, with little wasted time in between. Here are 10 tips to make the most of what is—or, hopefully, will become—a weekly summertime outing.
Find the best spot. The first stop on your farmers market adventure should be online at sites like localharvest.org. Here you can enter your zip code and obtain a listing of all the farmers markets in your area. In addition to times and locations, you also can get more information about each market, including what items are typically available (some even offer recipes, too).
Make a list. While you are more likely to make spontaneous "buys" at a farmers market (because you never know exactly what you'll find there), it still helps to make a list of "must-get" items. Base this list off of your meal ideas for the rest of the week. This way you are sure to have a plan in mind of how you will prepare the great items you purchase at the market. Of course, once you get there, be prepared to be flexible. Items move in and out with the seasons and you may be surprised by what is or is not available.
Bring the kids. Don't forget to grab the kids when you head out to the market! This is a wonderful opportunity to expose them to a wide array of healthy fruits and veggies that will look better and taste more delicious than what you normally pick up at the grocery store. With samples galore at many markets, this is a great time for them to try a bite of new foods they may otherwise reject.
Remember to bring your reusable bags. In addition to connecting farmer to consumer, farmers markets also tend to advocate that we be good stewards of our environment. One easy way to do that is to remember to bring your reusable bags to cut down on plastic and paper bag waste. If you don't have reusable bags, they can usually be found at your local grocery store for just a couple bucks!
Walk or bike, if you can. Keep up the spirit of optimizing your health by taking active routes to your local market, if possible. If you walk, consider taking a wagon or stroller to help transport your goods home. If you bike, make sure it includes a basket. If you must drive, make an extra effort to increase steps in your day by trekking through the entire market.
Visit each booth. You've finally arrived! Before you start buying, do a walk through the market to see what items are available and to get a sense of costs. While you may think that a farmers market is all fruits and veggies, this is not always the case. Many markets also include meat and fish, dairy products, some processed foods, flowers, breads and many other items. Visiting each booth is a great way to increase your physical activity, as well as get a feel for what is offered at what price. You will often find that two farmers may sell the same delicious fruit or vegetable for a notably different price. You also want to make sure that you make purchases that you will actually use. There's nothing worse than buying a beautiful piece of produce only to watch it get bad at home because no one ate it.
Sample, sample, sample. One of the greatest perks of farmers markets is that you get a chance to sample a wide variety of items that you may not have ever considered buying. Sampling also gives you a chance to compare the taste of similar items from two different vendors. And—not to be forgotten—sampling offers your kids a chance to try new fruits and vegetables that they may otherwise reject. It can take 15 to 20 times of tasting a previously rejected food for a child to actually come around to liking it. The experience of the market makes it more likely that your kid will be willing to give it a try. If they keep coming to the market, and they keep giving it a try, they eventually will come around to liking it!
Learn about the farms. Treat your outing to the farmers market as more than a chance to buy fresh food (though that is really important). Learn about the farms where the foods were grown as well. Encourage the kids to ask the farmers questions about what it is like to work on a farm, or how to grow food. This will help transform your outing into a cultural experience.
Go around closing time for the best deals. Don't feel like you have to be the first one there. In fact, a little known secret is that many farmers will reduce prices (or be more open to bartering) near closing time. After all, most don't want to lug home the unsold food.
Make a habit of it. Farmers markets are good for your health. This summer make it a regular part of your weekly routine. Not only will you benefit your community and local farmers, the routine will go a long way toward optimizing your family's health and well being. Don't take my word for it. Make a plan to see for yourself!