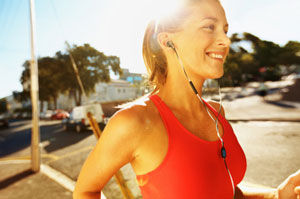 Music and exercise go hand in hand, earbud to earbud, just like chocolate and peanut butter—and for good reason. In addition to providing motivation, research confirms that the right music can distract you from discomfort, elevate your mood, increase your endurance and reduce your perceived exercise effort, and it may even promote metabolic activity (i.e., help you burn more calories). In fact, several studies have shown that participants will run farther, bike longer and swim faster when listening to music than without their favorite tunes. Dr. Costas Karageorghis, an expert on the psychology of exercise and music, believes that music is so powerful it could almost be considered a "type of legal performance-enhancing drug."
Does working harder for longer without even realizing it sound good to you? Of course it does! So let's get specific about exactly what kind of music you need to make this happen. Below I outline the two key factors that research suggests you should consider when choosing songs for your next workout mix. I've also included one additional influential element that can play an important role in your song selection, along with some of my favorite workout songs and tips to get you started compiling a list of your own.
Turn Up the Tempo
The ideal tempo, beat or pace of your music depends on your workout activity, because syncing up your movement with the music is a sure way to increase your motivation. If you are running or walking, websites such as Songza and jog.fm can help you match the tempo of your music to your desired pace. Even if you are not focused on staying with the beat, the tempo is still subconsciously affecting your exercise performance, so the more upbeat the tempo the better. You may be saying to yourself, "I can't dance, so the beat doesn't matter." But research shows that whether or not you can keep a beat, your body is internalizing the beat and trying to sync up. The right tempo can help your body coordinate the movement more efficiently, while distracting your mind from the work. This powerful combination makes for an altogether more productive and enjoyable workout.
Tip: Unsure of the tempo you need for your activity? Put on a few of your favorite motivating songs and try moving along with them. When you find one that feels right, use a BPM counting tool to tap along and calculate the beats per minute of the song. Then go to a workout music source and sort available pre-made play lists by BPM.
Ride the Rhythm
To put it in less-than-scientific terms, the rhythm response is what happens when a song makes you want to groove. If you hear a song and you can't help but move your body, bob your head or play air guitar, you are experiencing the rhythm response. Choosing the right rhythm for your workout is personal and varies by activity. Like tempo, research suggests that fast songs with strong beats bring out the baddest boogie in most people. But beyond this you may find that the percussion of salsa, the downbeat of hip hop or even the bass line of smooth jazz turns up the volume on your effort. During a workout, songs that pull at your rhythm response make you want to move bigger and with greater effort. Now that is something to boogie about.
Tip: Look through several different music genres on the iTunes Music Store using the Top 100 Songs lists. Have a listen and see which style of music sparks your rhythm response. You may be surprised at what you find!
Feel It In Your Heart
Think of your all-time, favorite song—the one you can't help but sing along to regardless of your potential to ever turn a chair around on The Voice. Chances are it is your favorite because it evokes a powerful emotion. It may remind you of an experience you had that lifted your spirits or even one that challenged you to your very core. Maybe it conjures up memories of a special person and how you felt when you were together. The words may reinforce a way of being that you aspire to or a faith you hold dear. While any good beat can get you through that cardio session, with a little introspection you can tap into music that feeds your soul and capitalize on an emotional motivation that can push you to dig deep in your workouts.
Tip: Forgive the generalization, but depending on your current stage of life, finding these songs will either be super simple or take a bit of work. If you are a 20- or 30-something exerciser, you most likely have these songs already in rotation on your iPod, as they comprise the soundtrack of your life. You just may not have considered sprinkling a few into your workout mix. For those of us in our 40s and beyond (when much to your chagrin you find yourself "rocking" in your car to either NPR or Radio Disney), you may need to find a few quiet moments to reminisce through your music collection or start using a smart phone App like Shazam to discover the title and artist of songs you come across in your day.