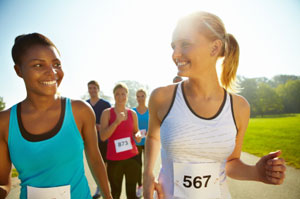 Ever wonder why that shocking red strapless dress doesn't feel right on you? Or why that tie just feels a bit too drab for you? The reason is your "personality" and it affects everything that you do—from the type of job you have and the clothes you wear, to the music you listen to and the type of exercise you gravitate toward and enjoy.
While some people rave about their party-like Zumba® class, others enjoy competitive high-intensity boot camp-style workouts. For some it's vinyasa yoga that makes their day, while others wouldn't do exercise anywhere but at home alone with DVDs. And for others, nothing but solo workouts with free weights will keep them coming back to the gym. It's all about personality.
Do people generally describe you as quiet, cautious and detailed-oriented, or direct, competitive and take charge? Do they see you as outgoing and friendly, or impulsive and ambitious? When it comes to health and fitness, do you constantly read websites, looking for research evidence to help you decide which exercise program to follow, or do you know all there is to know? What are the most important characteristics in a workout plan for you? Does it need to be safe and effective or get fast results? Maybe you prefer challenging and competitive or fun and social?
Are you a planner? As someone who prefers to have all of the facts before making any decision, you're a bit reserved in your approach to fitness. You have a tendency to gravitate toward activities that you are familiar and comfortable with, and more often than not you prefer to go it alone. You'll be guided to give your exercises a new twist, incorporate new training tools into your routine, and let science steer you in the right direction.
Maybe you are more of a go-getter. You've got your eyes on the prize and you're eager and willing to put in the hard work needed to make things happen. As someone who thrives on competition, you're diligent about adhering to a specific training plan to reach your personal goals. Time is of the essence to you, which is why it's important that you take an action-oriented approach to fitness.
Hmmm, still not you? OK, perhaps you are a social butterfly. When it comes to fitness, you're all about the social experience. You tend to favor relationships over results, and having fun with others while breaking a sweat is what is most important to you in a workout. With your positive energy and easy-going attitude, you are flexible in your approach to exercise.
Finally, there's the adventurer. There's nothing you won't try when it comes to exercise, health and fitness! With a passion for excitement and a flair for creativity, you're not afraid to take risks and challenge yourself in an entirely new way, and your infectious personality and zest for life inspires others to want to follow your lead. While you are determined to get the results you want, you often make impulsive decisions related to fitness.
By identifying your unique fitness personality, you can make it work for you from the start and be assured of developing the best motivation and adherence to physical activity. This helps ensure that exercise will be an enjoyable activity, not one you say "ugh" to and find ways to avoid. You wouldn't buy the dress that doesn't "feel right" and you wouldn't buy a new tie that feels "geeky" to you. Choosing the right exercise program that is custom-tailored to you, with the right venue and at the right speed, means you are more likely to stay with it long-term.
Your ACE-certified Personal Trainer or Health Coach may ask you personality questions when constructing a custom-fit program for you. Just smile and tell him or her that you are a planner, an adventurer, a social butterfly or a go-getter. Then see how good that workout program feels—it's custom-tailored to that inner, one-of-a-kind you.