Memorial Day marks the start of the summertime. With the end of school around the corner, many kids will spend more time at home. As you ponder what to feed them, consider replacing the usual cold-cut sandwiches with this healthy version of the kid favorite, Sloppy Joes. We add plenty of colorful chopped veggies into the meat for a tasty lunch that even your pickiest eaters will love!
Sloppy Joe Sandwiches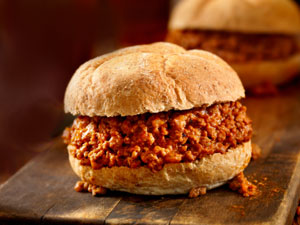 4 whole-wheat hamburger buns
½ pound ground white turkey
½ pound ground lean beef
1 small onion, chopped
2 garlic cloves, minced
1 carrot, shredded
2 celery ribs, chopped
½ cup defrosted frozen spinach
½ medium red bell pepper, chopped
¾ cup ketchup
½ cup tomato sauce
2 tablespoons Worcestershire sauce
2 tablespoons olive oil
Salt/Pepper
Heat 2 tablespoons of olive oil in a medium-sized pot over medium-high heat. Add the onion, garlic, shredded carrot, chopped celery, chopped bell pepper and spinach to the pot and cook for 6 to 8 minutes, stirring occasionally, until the vegetables are soft. Remove the vegetables from the pot and set aside.
Place the pot back on the stove over medium-high heat and add the ground turkey and ground beef. Cook the meat for approximately 8 to 10 minutes, stirring occasionally. Return the cooked vegetables back to the pot with the meat and mix. Add the ketchup, tomato sauce and Worcestershire sauce to the pot and stir. Lower the heat on the stove to low and let simmer for 10 to 15 minutes. Season with salt and pepper to taste.
Serve with whole-wheat hamburger buns and a side of fruit for a well-balanced lunch!