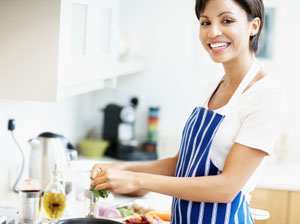 After 9 months of anticipation and preparation, our son was finally here! As a pediatrician, I thought taking care of a newborn would be easy. However, while all that training made me a well-equipped doctor, I still had to learn the ropes when it came to being a parent.
The first lesson I learned as the parent of a newborn was to throw any sort of schedule out the door. Because of our hectic work life, my husband and I were accustomed to our daily schedules. We quickly realized we were going to have to go by our son's agenda for now. Instead of the usual laundry list of things to do, I set just one task to accomplish each day. Our time was no longer completely ours, so we learned to sleep when our son slept or snuck in a quick meal together before he woke up.
When it came to meals, we were so fortunate to have our refrigerator and freezer stocked with food brought in by friends and family. It wasn't long, however, before we ate the last prepared frozen meal and I had to figure out how to squeeze in cooking between breastfeeding, changing diapers and getting some rest. Fortunately, I stocked my pantry during my "nesting" period and had some staples stashed away in the freezer. With these ingredients on hand, making quick and simple meals was much easier.
Soups are great meals to have stocked in the fridge (and quick and easy to eat since you never know when the baby is going to wake up). I also find them super simple to make in a pinch. I locate the ingredients I need to get rid of in my pantry and refrigerator (like that half-empty bag of peas and carrots or that broccoli in the back of the fridge) and throw them in a pot with some broth for 30 to 40 minutes. Soups are especially convenient to make with a new baby at home, because you don't have to constantly hover over the stove.
Having these healthy meals at home does take some preparation time. When my husband holds the baby, I use that time to bake chicken breasts or cook some grains to stock in the refrigerator. Frozen vegetables are great to have on hand, but if I have some fresh vegetables, I wash and dry them so they are ready to cook. While I know making fancy elaborate meals for my husband will have to be put on hold for now, I'm looking forward to sharing that part of our lives with our son in the future.
Butternut Squash and Fennel Soup
This is a perfect example of a soup that takes just 10 minutes to prepare, but is both nutritious and filling. Roasting the squash in the oven beforehand really brings out the sweetness, but I usually skip this step to make it easier and instead throw all the ingredients in the pot together to cook. If butternut squash isn't in season, you can use sweet potatoes and leave out the fennel. When the soup is cooked and pureed, try adding 1 ½ cups of frozen corn for a delicious sweet potato and corn soup!
1 whole butternut squash, peeled/cubed/seeds removed (approximately 5 cups)
1 fennel bulb
1 medium onion, chopped
4 cups chicken broth (or substitute for vegetable broth or water)
Remove the fronds and stalk of the fennel bulb. Slice the bulb in half and remove the bottom core. Cut the fennel into thin slices.
Place a large pot over medium heat. Pour 3 tablespoons of olive oil into the pot. Place the chopped onion and sliced fennel into the pot. Stir occasionally until soft and slightly brown. Add the cubed butternut squash to the pot and mix well. Pour the broth into the pot and lower the heat to low. Let cook for approximately 45 minutes, or until all the vegetables are soft. Allow the soup to cool before blending in batches.
Here are two simple recipes for baked chicken and couscous, which can be varied according to your taste preferences and the ingredients you have on hand.
Simple Herb Roasted Chicken Breast
4 bone-in chicken breasts
4 tablespoons of fresh herbs (rosemary, sage or thyme)
Salt and Pepper
Olive oil
Preheat the oven to 400 degrees. Loosen the skin of the chicken breast from the meat with your fingers. Place approximately 1 tablespoon of herbs underneath the skin of the chicken and finish with a sprinkle of salt and pepper. Repeat with remaining chicken breasts.
Place the chicken breasts on a baking tray and drizzle the top of the chicken with olive oil. Bake for approximately 45 minutes.
Basic Couscous
1 cup of dry couscous
1 ½ cups of water (or broth)
Bring the water or broth to boil in a medium pot with lid. Once the liquid is boiling, add the couscous to the pot and cover with the lid. Turn off the heat and let sit for 10 minutes. Then, remove the lid and fluff the couscous with a fork.
Some great variations to try:
Hearty Chicken and Couscous Soup: Bring 5 cups of chicken or vegetable broth to boil in a medium pot. Reduce to low and add 2 cups of cooked couscous, 1 ½ cups of chicken breast (cut into small pieces) and 2 cups of frozen or fresh vegetables.
Rosemary Chicken and Couscous Salad: Serve sliced chicken breast with ½ cup of couscous over a bed of lettuce and other vegetables you have in your fridge.
Baked Couscous with Spinach and Chicken: Mix 1 can of tomatoes with 2 cups of cooked couscous in a bowl. Thaw and drain one bag of frozen spinach and add to the couscous mixture, along with 1 ½ cups of chopped chicken breast; mix well. Pour the couscous into a baking tray and top with mozzarella cheese. Bake at 375 degrees for 30 minutes.