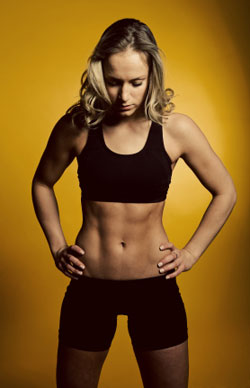 I'm sure you've stumbled across the word "core" a time or two as you've traveled along your fitness journey. Every fitness magazine, fitness pro and reality-show trainer touts its importance, but what exactly is the core? Why should we work it? And, more importantly, how should we work the core for the greatest benefit?
The core has been defined—and redefined—over the years and, depending on which expert you ask, you may receive a myriad of responses. The most important thing to note is that it is more than your abs. The core is made up of the many muscles that stabilize and move the spine. Think about all the muscles that run up and down the spine—in the front, back and sides—that help you bend, stand, twist, lift, move and more. Suffice it to say, it's a pretty key area to target in your workout routine.
In some instances, the old "abs" workouts that promised to get you the midsection you'd always dreamed of are still around—they've simply been rebranded as "core" workouts. Remember doing endless crunches in all kinds of positions? These are still fine exercises to include as you transition from abdominal-focused workouts to core workouts. However, to make sure you are targeting more than just the 'pretty muscles' (the ones you show off in a two-piece) and to shift your focus from aesthetics to function, there are a few things you need to do:
1. Slow it Down
The slower you go, the more your muscles have to respond. Momentum can get you through a killer ab routine, but you'll be missing out on the deeper core focus that occurs when you take your time with every repetition. And, while we're at it, there's no need to do thousands of crunches! If performed correctly, a typical number of repetitions should be similar to the number of biceps curls you would do in a set.
2. Brace First
Bracing is a co-contraction of all the muscles surrounding the spine that doesn't change the size of your waist (what a mouthful!). Think of cinching your waist to fit in a belt hole that's normally just a tad too tight. Do this without tucking your tail under. It's easiest to start standing up to find this feeling and then lie down. Once you connect with the core, brace and then move as you execute crunches, paying attention to maintaining the same space between your low back and the floor throughout the entire range of motion. Don't worry—even if you don't get it just right, you'll tap into the deeper core musculature more than before.
3. Use a Small Ball or BOSU Balance Trainer
The floor is fine, but if you want to automatically upgrade your old-school abdominal exercises into updated core moves, invest in a small, inflatable ball or a BOSU Balance Trainer. Either device can be situated at the small of your back while performing crunch variations and you'll immediately feel the difference! It's all about feeling more than the muscles that run up and down the front part of your body, and tapping into the deeper muscles closer to the spine.
If you're interested in targeting the core even more, you've got to get off your back and train the muscles in your middle in a different way. The next step is simply flipping over and getting prone. Adding a variety of planks to your workout—if done well—is a sure-fire way to fire up your core. Try adding the following exercises to your workout:
Plank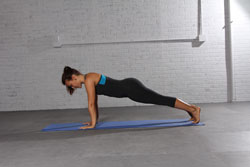 This exercise is performed much like the 'up' phase of a push-up: With hands directly under your shoulders, hold your body in one straight line without sagging or hiking the bum. You can perform a plank on hands, forearms, knees or toes. Whichever way you choose, the hold is initiated with that same bracing we discussed above.
Side plank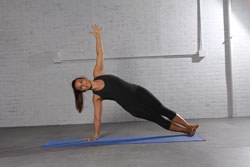 From the plank position described above, simply open your body up to the side. Balance on one arm positioned directly under your shoulder, keeping your feet stacked. Of course, you can execute this move on your knees or forearm for a bit more stability.
After you've flipped it over, it's time to get off the floor! It's true—core conditioning can be done vertically. The great news is that almost every exercise you do can become a core exercise if you simply put your mind into the movement. Give these three ideas a try:
Take your shoes off. Even the simple act of standing in perfect posture can become a core exercise if you take the time to explore the subtle movements that are happening inside while you stand tall. Begin by taking your shoes off and positioning your feet directly under your hips. Rock forward and backward to eventually settle with your weight evenly distributed. Next, lift all 10 toes off the floor, but keep the balls of your feet pressed firmly into the ground and evenly weighted from the insides of the feet to the outsides. Spread your toes out wide and set them back down. Lift your kneecaps up, drop the tail long and brace through the midsection. From this position, try alternating knee lifts while keeping the hips level and stretching the opposite arm overhead. Imagine lifting knees from the core rather than the hip flexors.
Use a tube. Anchor a resistance tube to a pole, a person or something sturdy and try exercises like the chest fly, back rows and diagonal pulls with a new focus. For the chest fly, consider shortening your stance and, when you move the arm to execute the fly, avoid moving the trunk to pull the tube toward the center of your chest. For the back row, begin facing the anchor with one arm outstretched at chest height and legs in a modified lunge. As you pull the elbow back and behind you, open the trunk in the same direction. As the arm returns front, lift the back leg for a quick balance challenge. Then, for diagonal pulls, stand with your side to the anchor and the tube grasped in both hands. You can either start low and pull diagonally across the body to a high position, or start high and pull diagonally across the body to a low position. In either scenario, the entire body pivots as you pull, while the elbows stay in a fixed position. For all exercises, concentrate on the center being the initiator of the movement.
Give balance a try. Whether or not you use an unstable surface (e.g., balance cushions, BOSU Balance Trainer), balance is a wonderful way to engage your core like never before. Any exercise performed on an unstable surface requires your core to engage if you're to stay on top of the surface! Trying squatting, lunging, jumping, running and more to get a bonus core workout while you're strength training or getting in a little cardio.
Final Thoughts
A strong core is the first step to a strong you. Not only will it make you look better by changing your posture, it will help you move better and keep you protected during many of life's daily activities. Your core workout can be a stand-alone program or, even better, easily integrated into your strength, cardio and flexibility workouts. To ensure you are truly getting what you need from your core workout, however, make sure you try to take your core off the floor every once and awhile.