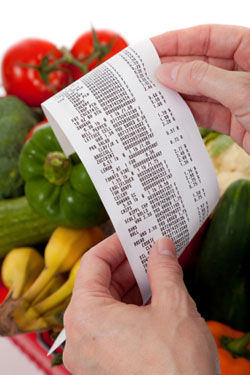 Eating a healthy diet does not have to be expensive. In fact, by including these 10 items in your weekly snacks and meals, not only will you save significant amounts of money, you will also go a long way in boosting your health. While the exact prices for each of these items vary, no matter where you are, you can get them for cheap.
Banana. Bananas are well known for their high potassium content, which can help to protect against heart disease, as well as decrease cramps after strenuous exercise. They are high in vitamin B6, fiber and vitamin C. And, b ecause they are covered in a peel, bananas are low in pesticides and easy to grab-and-go— perfect for families on the run and for those who tend to skip breakfast due to a time crunch. Because of their higher carbohydrate content compared to other fruits, bananas are also a great post-workout snack for athletes to help optimize recovery.
Eggs. Eggs have been both touted for their health benefits and criticized for their health risks. While egg yolks do contain cholesterol, they also are high in protein and omega- 3 fatty acids, which are important in heart disease prevention and brain development. Overall, eggs are inexpensive, easy to prepare and versatile.
Black beans. An excellent source of protein, iron and fiber, black beans also contain several different antioxidants, including anthocyanins, which are thought to help protect the body from heart disease, cancer and age-related memory loss. The heart-healthy omega-3 fatty- acid content of black beans is three times higher than other legumes. For optimal flavor (and to save the most money) buy dried black beans (rather than canned) and simmer in a pot with onion and garlic until the beans are soft.
Chicken breasts, bought in bulk. Boneless, skinless chicken breast is exceedingly easy to store and cook, loaded with protein, low in calories and, especially when purchased in bulk, surprisingly inexpensive. After purchasing the chicken breasts, wrap them individually and place in the freezer. Then, when you need a quick dinner you can just take out a chicken breast to defrost the night before, season it with a little bit of pepper or other herbs (see below for recipe idea), and bake or grill it for an easy, delicious meal.
Oatmeal. Very high in fiber, oatmeal helps to remove bad cholesterol from the blood stream. It also helps to clean out the GI tract for anyone suffering from constipation. Optimize your health (and save money) by choosing plain, steel-cut oatmeal for the highest fiber and lowest sugar content.
Carrots. Inexpensive, easy to prepare and eat, and packed with vitamins A, C and K , folate and fiber, carrots are a great addition to any meal or snack.
Canned tuna. Eating a can of water-packed tuna is a low-calorie way to get loads of lean protein, omega- 3 fatty acids, B vitamins, selenium and vitamin D. Tuna is also an easy way to get in the recommended minimum of two servings per week of fish.
Canned diced tomatoes. With all of the benefits of raw tomatoes, plus a more active form of the antioxidant lycopene, canned tomatoes are a great way to increase your daily consumption of vegetables and fruits, while also helping to liven up a meal. D iced tomatoes sautéed with a little bit of olive oil, garlic and onions is a delicious pasta sauce that is healthier for you and just as tasty as marinara sauce. You can also include them in a minestrone soup (see recipe below).
Sweet potatoes. If only sweet potatoes were the most- consumed vegetable in the U.S. rather than their more common cousin, the less-nutritious white potato. A sweet potato contains twice the recommended daily amount of vitamin A, almost half of the recommend daily amount of vitamin C and, if you eat the skin, even more fiber than oatmeal.
Water. The cheapest and best beverage is plain old water. Meet your hydration needs by switching out the sugar-filled juices, sodas and sports drinks for water. Spruce it up by adding sliced fresh produce to your water pitcher (such as oranges, lemons, cucumbers, watermelon or strawberries).
Recipe Ideas from Mary Saph Tanaka, M.D.
Baked Blueberry Banana Bread Oatmeal
2 cups old fashioned oats
2 cups nonfat milk
2 tablespoons ground or whole flax seed
½ cup brown sugar
1 egg
1 tablespoon ground cinnamon
1 teaspoon ground nutmeg
1 teaspoon salt
1 teaspoon baking powder
2 ripe bananas
1- ½ cups blueberries (fresh or frozen)
½ cup chopped pecans
Preheat oven to 375 degrees. In an 8" x 8" inch pan, mash the bananas with a fork. Pour the milk into the pan and mix with the bananas. Add the egg to the banana-milk mixture and mix until well incorporated. Pour the oats, cinnamon, nutmeg, salt, brown sugar and baking powder into the wet ingredients and mix well. Place blueberries on top of the oatmeal and s prinkle with chopped pecans . Bake for approximately 25 minutes. Serve with a splash of milk or a dollop of vanilla yogurt.
Like carrot cake? Try Baked Carrot Cake Oatmeal!
Use the above recipe with the same ingredients, but instead of bananas, blueberries and pecans, use 1- ½ cups of grated carrots and ½ cup of raisins. Top with ½ cup of chopped walnuts. Bake for 25 minutes.
Orange Rosemary Chicken
2 skinless, boneless chicken breasts
Juice of ½ orange
2 sprigs fresh rosemary, leaves removed and chopped
1 tablespoon red wine vinegar
2 tablespoons olive oil
1 teaspoon ground black pepper
Preheat oven to 400 degrees. Cut each chicken breast into 3 to 4 even pieces and place into a medium mixing bowl. In a smaller bowl, mix the orange juice, rosemary, vinegar, pepper and olive oil. Pour over the chicken until it is well coated. Let chicken marinate for 30- 40 minutes in the refrigerator.
Space the chicken evenly on a baking tray. Bake in the oven for 25- 30 minutes, until cooked through.
Frittata Muffins
4 eggs
1 cup assorted vegetables, chopped into small pieces
Muffin tin and cupcake liners
1/4 cup nonfat milk
2 teaspoons salt
2 teaspoons black pepper
Preheat oven to 375 degrees. Crack eggs into a medium-sized bowl and beat lightly. Add milk into eggs and stir. Add vegetables into bowl and stir gently. Sprinkle in salt and pepper.
Spray muffin tin with nonstick cooking spray. Line muffin tin with cupcake liners. Pour egg mixture into each muffin tin, until approximately three- quarters full. Bake in oven for approximately 15 minutes. Makes 10 to 12 muffins.
Tips:
For breakfast: Cut one egg muffin into slices and put in between two pieces of toast for a healthy breakfast sandwich.
For lunch: Serve a frittata with a green salad for a balanced lunch.
Vegetable Minestrone Soup
1 can red kidney beans, rinsed and drained
1 can white cannellini beans, rinsed and drained
1 package assorted frozen vegetables, defrosted and drained
1 package whole- wheat short pasta, cooked
2 cans low-sodium diced tomatoes
2 cans low-sodium chicken broth
1 medium onion, chopped
Heat a large pot over medium heat. Heat 2 tablespoons of olive oil into the pot and cook onions until softened. Add all the ingredients into the pot and stir. Let simmer over low heat for 40 minutes.