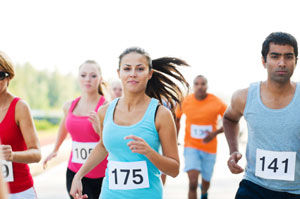 When you see the term "5K" you most likely think of serious running. And if you do not necessarily consider yourself a "runner," it is easy to dismiss the idea of participating in a foot race with a quick, "It's not for me." At a burn rate of approximately 1,000 calories an hour for a hard session, running is one of the most effective means of weight loss and enhancing fitness. But it's understandable that becoming a full-time runner is not on everyone's goal list, and that's O.K. If you are struggling to stay motivated in your exercise program, whatever it may consist of, participating in a 5K as a runner, jogger, walker or even in a wheelchair as a challenged athlete is one of the best ways I know to rediscover your inspiration for leading an active lifestyle. Here's why:
Flex Your Commitment
When you mark the race on your calendar you are committing yourself to action, and commitment is the cornerstone of any lifelong exercise habit. Identify an event six to eight weeks away and then go online and register for the race. Once you have backed your commitment with your hard-earned money, take it one step further by posting your intention to your favorite social media site. After doing these two things, you will naturally start to think about how you are going to achieve your personal best in the event—particularly now that you have put your money where your mouth is and you have an audience of friends and family who will be asking you how you did in the race.
Get Good at Goal-Setting
Chances are you already have a base level of fitness as either a walker or a runner. Now, get specific about a time in which you would like to complete the race. Maybe you are ready to make the transition from walker to runner, or you want to break out of your current comfort zone with running and build some speed. Assuming you have a six- to eight-week lead time, research 5K training plans and set a reasonable goal to work toward. Having a structured plan to follow makes training simple and less emotional, both of which lead to greater consistency. Instead of asking yourself what you feel like doing for exercise today, you look at your training plan and get the job done accordingly. This is an excellent take-away for any fitness program—have a plan and stick to it.
Crowd Source Your Energy
If you've never participated in a 5K, prepare to be pleasantly overwhelmed and inspired by the energy of the crowd. Whether it's a hometown race put on by the local community center or a national event that includes several other distances, there are bound to be product vendors, music and a buzz of activity at the starting line—all before the race even begins! Once the gun goes off you will find yourself literally swept along in a stream of runners and walkers as the sound of footfalls creates a tribal-like rhythm. At the front of the race, the atmosphere is focused and intense as competitors vie for position, but near the middle or even at the back of the pack the vibe is chatty, enthusiastic and a definite adrenaline rush. You are bound to find yourself moving faster than you ever would in a solo workout, but feeling like it is much less effort. Put on a friendly face and racers will offer you encouragement as they pass or even stay alongside you for part or even all of the course.
Bank a Big Finish
I believe that the finish line experience is what keeps racers entering events year after year. At a decent-sized race there will be an announcer to congratulate you by name over the microphone as you cross the line. At larger races you might even see your name and live image on a huge LCD display as you come into view of the cameras. This is also where the bulk of the spectators gather and you will be amazed at how their clapping and cheering pulls you through to the end, even when you think your legs and lungs cried "uncle" several miles back. After you cross the finish line, strangers will congratulate you and volunteers will hand you water, sports drinks and snacks. For some of us it's the closest we will ever get to feeling like a professional athlete, but even the thrill of that small moment can be parlayed into big-time future motivation.
Capture the After Glow
If you don't mind hanging around for a bit after the race, you can get your results at the event. Or, you may go to breakfast with friends (old or new) to celebrate and look up your results online later. Either way, you are bound to have one of two experiences: If you beat your time goal, you will feel an incredible sense of pride and accomplishment, which is very quickly replaced by a craving to race again to see if you can do even better. You may even find that you have "placed" in the top three for your age group—the ultimate icing on the cake. If you fell short of your time goal, it probably wasn't by much, but be prepared for initial feelings of disappointment or frustration. The good news is that those feelings can easily turn into competitive drive as you find yourself thinking of all the ways you will train harder and race smarter so you can not only meet—but beat—that goal in your next 5K.