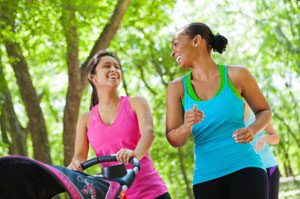 In 2001, I became a mom, which changed my life forever. I had been a fitness professional for a decade, but it was when I became a mom that I realized just how much pregnancy changes a woman's body. I was overwhelmed by the body that was left behind. Not only did I have hormonal imbalances, changes in posture, muscular imbalance and STILL looked pregnant, I quickly realized that my usual workout was not going to work for me at this time. I also realized that it wasn't just me—all moms want their bodies back. And that's when I decided to start Stroller Strides, an exercise program designed exclusively with moms in mind.
Over the past 12 years, Stroller Strides has evolved into more than 270 franchises in 44 states. During this period of rapid growth and reaching more than 60,000 moms, it has become abundantly clear that our fitness programs—as moms—need to change with the stages of motherhood. Here is my best advice on how to get your body back, based on the ages and stages of your kids:
Newborn to three months
Your old workout most certainly does not fit into your new life, but that does not mean you're off the hook. It's time to build a foundation and bring your body back into alignment. Exercises such as Kegels and abdominal bracing are great to start restoring your core and pelvic floor. Start walking and slowly build up the intensity and length of each walk.
Three months to one year
There is not a lot of 'mom time' in the first year of motherhood. You need to squeeze fitness into the nooks and crannies of the day. Mommy and baby workouts are a great way to get in some exercises. For example, you can chest press with baby or do reverse curls with baby on your legs. You can also get a great workout with baby in a front pack carrier. Squats and lunges are even more effective with the added baby weight! Motherhood can sometimes feel lonely. Try a stroller workout class to get in shape and get some fresh air. When on your own stroller walk, up the intensity by adding more hills and strength intervals like squats and lunges. Your body went through many changes during pregnancy—give it time to build back up, focusing on your core and pelvic floor strength.
One to three years
Your stroller workouts may still be a best bet for time and enjoyment with baby. As your baby gets bigger, you'll get stronger! At this stage, you can also pop in a workout DVD or even try out one of the many free workouts available online. Your toddler may have fun trying to join you! Hopefully, you are no longer sleep deprived and can sneak in a workout while your little one naps. Virtually all of motherhood pulls your body forward; pushing a stroller, nursing, holding baby. At this stage, focus on your back strength and posture exercises.
Three to five years
Your little one is more mobile and you can be, too. Go for a run as you help push them along on a bike. Or, play red-light, green-light and tag at the park. The playground is a great place to work out. Do some step ups, pushups and dips on the park bench. Don't be tempted to sit around while your kids are playing—join them instead. When your kids start school, you can go back to the gym or your favorite workout class.
Six years +
From here on, anything is possible. There are a number of sports that you can play with your kids. Try tennis, karate or yoga. Create a circuit workout at the park for you and your family. If your child plays a team sport, use that time to go for a run around the field or do your own workout. You want your kids to grow up seeing that you exercise and that you love it. Include them as much as possible so that they can grow up to be healthy and fit!
No matter your stage of motherhood, fitness is a gift for you and your family. YOU need the strength for motherhood! And they need to learn from you that fitness is an important part of daily life and can be fit in to a busy schedule.