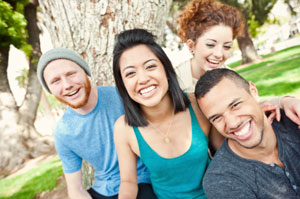 Teens aren't well known for their great health habits. In fact, a Centers for Disease Control and Prevention survey of teens found that most U.S. teens don't eat enough fruits, vegetables or whole grains, and eat too much sodium, sugar,and solid fats. In addition, fewer than one-third of high school students get the recommended 60 minutes of physical activity on even one day in a given week. And an American Heart Association study of 33 million teens showed that less than 1 percent had an ideal diet score and fewer than half had an ideal score in five of seven domains of cardiovascular disease health (none had ideal health in seven of seven domains). These domains include: smoking, body mass index, dietary intake, physical activity, blood pressure, blood glucose and total cholesterol. (For more information on teen health statistics, check out cdc.gov/healthyyouth.)
In my own pediatrics practice, I've taken care of a remarkable number of teens with various physical issues directly related to these habits. Symptoms have ranged from a "really bad stomachache" following a late-night binge of super spicy potato chips to serious weight struggles resulting from years of emotional overeating. I stopped in my tracks when I saw another teen with repeated viral infections who unexpectedly and reluctantly answered "yes" when I asked if he smokes. These habits that start so young have a profound impact on the current and future lives of our kids.
But parents, be reassured. Trying to get teens to practice healthy habits is not a lost cause. In fact, I've seen many adolescents who have made significant and lasting changes in their lives to boost their health after they came to realize the downside of their old behaviors. But we have to step up to the occasion to change the way we run our homes and communities to inspire serious changes. Here are 10 tips to boost your teens' health now and help them to gain the knowledge, skills and attitudes they'll need to keep it up once they head out on their own.
Eat family dinners. The benefits of eating family dinners are well known—and they are most pronounced for teens. Teens who eat more family dinners have fewer emotional and behavioral problems, are less likely to smoke and drink, and have improved life satisfaction (Elgar et al, 2013), as well as improved nutrition behaviors including consumption of more fruits and vegetables and breakfast (Utter et al 2013).
Get a dog. Studies show that teens who have a dog are more likely to get the recommended amounts of physical activity (presumably due to walking the dog). Plus, caring for a pet helps to teach them responsibility and accountability. If getting a dog is not something that you are keen to do, at least strongly consider encouraging your teen to take up dog-walking as a part-time job to make a little extra spending money (and, as an added benefit, boost activity).
Lead the way. As teens gain increasing independence, it may seem as though they aren't influenced by their parents' actions. Not true. Teens in homes where parents eat healthfully and are active are more likely to also eat healthy and be active.
Encourage, but don't force. Adolescence is characterized by a growing resistance to authority; in most cases, pushing your teen too hard to take on healthy habits is more likely to lead to rebellion and, consequently, even worse health behaviors. Instead, share the benefits of healthy eating and activity with your teen and then ask: "What do you think?" Set the stage for your teen to come up with the possible solutions. That way, he or she will be more likely to actually make the changes and stick with them.
Create a healthy environment. You can't control what your teen does when he or she is out with friends, at school, or in someone else's home. But you CAN control what your teen is exposed to in your own home. Make sure that you've created a healthy environment that includes easy access to a variety of healthy foods (and not easy access to junk foods) and a home environment that supports physical activity.
Take advantage of technology. Teens are high-tech. The key to improving teens' health may also be found in the high-tech space. For instance, apps like Fooducate, which allows a smartphone user to scan a nutrition label and get an immediate A-B-C-D-F grade for the food's quality, can help make learning how to eat healthy more fun. The Zombies, Run! app has inspired more than 450,000 people to have a great time running farther and faster. Other apps like QuitNow! and My Last Cigarette have received rave reviews for helping people to quit smoking. Apps have high potential to be a part of the solution in improving teen health.
Encourage participation in sports at school, in the gym or with a recreational league. Sometimes teens just need a little extra support and encouragement to get started. Explore what type of sport or activity your teen is most likely to enjoy and help to make it easy for him or her to get started. It doesn't have to be a school team; most communities offer recreational activities from a wide variety of sports and disciplines. It doesn't even have to be a sport—taking your teen with you to the gym or introducing him or her to a fitness class could be the start of a new favorite activity. Increasingly, gyms and community centers are taking an increased interest in helping to turn teens on to the joys of physical activity. (In fact, ACE has just launched a teen fitness workshop to help those pros gain the tools and skills they need to help teens have a blast while boosting their fitness and health.)
Take healthy family trips. One great way to "walk the talk" is to plan for healthy and active family trips and outings. Plus, by creating a fun and memorable experience doing something healthy and active, you help to establish positive psychological connections between healthy behaviors and feeling good. This will increase the likelihood that your child will turn to these types of activities rather than less healthful behaviors to cope with life's stresses.
Identify "healthy" friends and help to nurture those relationships. Teens are heavily influenced by the behaviors of their friends. While you can't pick your child's friends, you can help to nurture those friendships that you support by going out of your way to help a child spend more time with the good influences in his or her life.
Talk it out. Talk with your teen to understand his or her current knowledge, attitudes and beliefs about healthy habits like eating fruits and vegetables, engaging in physical activity, and avoiding high-risk behaviors such as smoking and alcohol use. Assess how willing your teen is to change and, if ready, help him or her get started.