Technology can be a powerful tool to help make us as healthy as possible—and at last count there were more than 14,000 health, fitness and wellness apps available in the iTunes Store. In this post I'll introduce you to some of my favorite new apps that have yet to become mainstream. Why listen to me, you might ask? I've spent the last four years researching mobile health apps for a doctorate degree in technology and fitness, so I've seen my fair share of what works and what doesn't. Have an app I missed? Ping me and let me know.
MOVES (Free)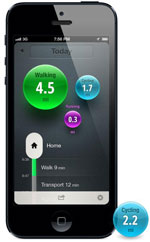 Need an app that tracks your movement where you can set it and forget it? Look no further than Moves. Just keep your iPhone in your pocket and Moves automatically records your daily movement in the background of your iPhone. The display is crisp and shows not only your movement, but also your non-movement periods throughout the day. The GPS does drain the battery a little bit, so nightly charging is recommended.
More info here: http://www.moves-app.com/.
LOLO ($3.99)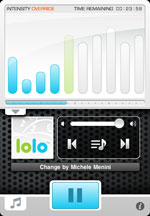 Ever wish you could set the beat of your music to the pace of your workout? Now you can with LoLo. Use this app while you walk, run, use the elliptical or even cycle, and increase the tempo of the music to fit the intensity of your workout. LoLo imports your existing music library and automatically adjusts the pitch—or you can use LoLo's music. The embedded audio coach gives you the interval changes in speed or elevation, taking the guesswork out of your cardio. The best thing about LoLo—and I don't know how they do it—is that it seems to make the workout go by faster!
More info here: http://lolofit.com/
GAIN Fitness (Free; additional in app purchases available)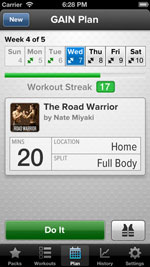 While an app can't replace your personal trainer, the app by GAIN Fitness can enhance your workouts and keep your trainer up to date with your progress in real time. From strength training and cardio to core training and yoga, this "digital workout card" allows you or your trainer to embed video and pictures of hundreds of different exercises, giving you plenty of options for working out at the gym or at home. If you're traveling, no problem! GAIN Fitness also has personalized workouts that require little or no equipment, giving you the option to exercise in your hotel room or on the beach with this handy and powerful app.
More info here: http://gainfitness.com/
Charity Miles (Free)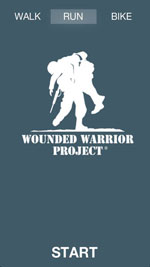 Are you the type of person who needs a little extra motivation to get your workout in? If so, check out the Charity Miles app, which converts your minutes of exercise to dollars, while raising awareness for your favorite charity. Turn on the app at the start of your workout, select a charity and go—it's that simple. Charities range from the Wounded Warrior Project to Autism Speaks, and with every minute you exercise more money goes to your charity of choice. Bikers can earn up to $0.10 a mile, while walkers and runners earn up to $0.25 per mile. Make your sweat mean more through "charity sweating" with Charity Miles.
More info here: http://www.charitymiles.org/
DigiPill (Free; additional in app purchases available)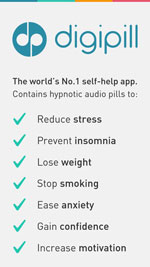 What if rather than taking a pill, you could listen to a pill? Need help unwinding from a tough day at the office? Still having trouble kicking the smoking habit? Toss and turn every night? If you've ever wanted to try using audio suggestions for some of your wellness challenges then DigiPill might be worth the download. DigiPill uses psycho-acoustics to help you unlock your subconscious and change your perception on a wide range of daily challenges. Each download offers one free 10-minute "pill" of your choice. Find a quiet place, put on your headphones and listen away.
More info here: http://digipill.com/
Fitness apps are becoming just as common as the fitness equipment that many of you know—and some of you love—but just like a treadmill, you still need to do the work to get the most out of them. Apps can serve as a great way to enhance your workout experience by providing feedback, motivation and support during your sweat sessions. So the next time you lace up your sneakers, consider trying one of the many mobile fitness apps out there. Like I always say, "An app a day keeps the doctor away."