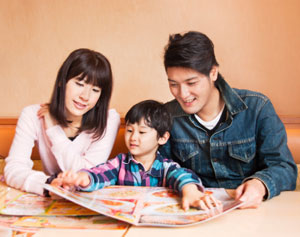 The good news is that many families figure out ways to eat meals together. The less-exciting reality is that a large proportion of these meals are eaten outside the home, where families have a lot less control or knowledge of what exactly is in the food. Studies suggest that most Americans spend nearly half of their food budget and a third of their total calories eating out. On any given day, about 30 percent of children eat fast food at least once. While it's still possible to experience many of the benefits of a family meal even when the food is eaten at a sit-down or fast-food restaurant, parents must be more conscientious to ensure that their children have balanced meals. Considering that fast food is typically higher in calories, fat, sugar, quantity and oftentimes palatability than prepared-at-home meals, how can parents eat out with their kids without blowing their efforts to feed their children healthy foods?
The Biggest Culprits
First, don't trust that just because there's a special menu for kids that you should order from it. Kid's menus typically consist of items like hamburgers, chicken nuggets, macaroni and cheese, and French fries—foods that cater to a child's love of greasy and nutrient-poor foods. To make it even more appealing to kids, these meals often include free toys and catchy packaging— essentially rewarding the child for eating an unhealthy meal.
The Center for Science in the Public Interest (CSPI) assessed the nutritional quality of children's menus at the 50 largest chain restaurants in the United States. The researchers evaluated the nutritional quality of all possible combinations of each entree, side item and beverage from each restaurant's children's menu. Then they compared the meal combinations with the National Restaurant Association's (NRA) Kids LiveWell Standards (see Box).
Out of nearly 3,500 combinations, 91 percent did not meet the restaurant industry's standard of healthier options (97 percent did not meet expert nutrition standards). More than half of the restaurants did not have one meal that met expert nutrition standards and one-fourth of the restaurants did not meet Kids LiveWell standards, either.
The good news? CSPI conducted a similar study in 2008 and at that time 99 percent of restaurant meals did not meet expert nutrition recommendations. So there has been some progress. But, if you go out to a restaurant and you're thinking about ordering off the children's menu—be warned. Your child is likely to get something loaded in calories, sugar and or sodium and light in nutritional value.
Best Chances
The best chances to get your kids to eat healthy while eating out occur when you set the stage for a successful experience. Here are a few ideas to help you do just that:
First, when deciding where to take the kids, consider choosing from a premade list of kid-friendly restaurants that offer healthy options. This way, you can minimize mealtime stress (because you shouldn't have to feel like you're putting anyone out if your kids don't behave), but also know you'll be able to help your kids find something reasonably healthy to eat.
If you want to frequent a fancy restaurant, no problem. Try to choose a time when your kids are the most cooperative. You may even consider offering them a light and healthy snack before you head out. That way, they won't be too hungry and impatient while waiting for the food, you can minimize the splurge on bread or other appetizers, and you can be sure they'll at least be exposed to something healthy.
Read nutrition information labels to make smarter choices. Restaurants are increasingly required to provide nutrition information in an easy-to-see location. You can use this information to ensure healthy food choices for your kids. Studies support that when this information is available, parents tend to guide their kids toward choosing healthier meals. For example, one study comparing theoretical restaurant ordering with a menu that contained calorie information versus one that didn't, parents with the labeled menu chose 102 fewer calories for their children than parents who weren't privy to calorie information.
Don't be reluctant to order off the adult menu. In fact, you and your kids may be better off if you choose a meal together and share it. By ordering from the adult menu, you have the chance to maximize a child's exposure to different foods and teach a basic life skill about how to choose a healthy meal.
Kids LiveWell Nutrition Criteria for Full Kids' Meals (entrée, side option and beverage):
600 calories or less
≤ 35% of calories from total fat
≤ 10% of calories from saturated fat
< 0.5 grams trans fat (artificial trans fat only)
≤ 35% of calories from total sugars (added and naturally occurring)
≤ 770 mg of sodium
2 or more food groups (see below)
Kids LiveWell Nutrition Criteria for Side Items:
200 calories or less
≤ 35% of calories from total fat
≤ 10% of calories from saturated fat
< 0.5 grams trans fat (artificial trans fat only)
≤ 35% of calories from total sugars (added and naturally occurring)
≤ 250 mg of sodium
1 food group (see below)
Full meals must include two sources, and sides must include one source of the following:
Fruit: > ½ cup (includes 100% juice)
Vegetable: > ½ cup
Whole grains: contains whole grains
Lean protein (skinless white meat poultry, fish/seafood, beef, pork, tofu, beans, egg): > 2 ounces meat, 1 egg or egg equivalent, 1 oz nuts/seeds/dry bean/peas (lean as defined by USDA)
Lower-fat dairy (1% or skim milk and dairy): > ½ cup (while not considered low-fat, 2% milk is allowed if included in the meal and the meal still fits the full meal criteria)
Reference: http://www.restaurant.org/Industry-Impact/Food-Healthy-Living/Kids-LiveWell/About
For more information on restaurants signed on to the Kids LiveWell initiative, see the Healthy Dining Finder. But do not assume that just because they joined the initiative that you can trust the kids menu.
Post adapted from "Eat Your Vegetables" and Other Mistakes Parents Make: Redefining How to Raise Healthy Eaters (Healthy Learning, 2012).