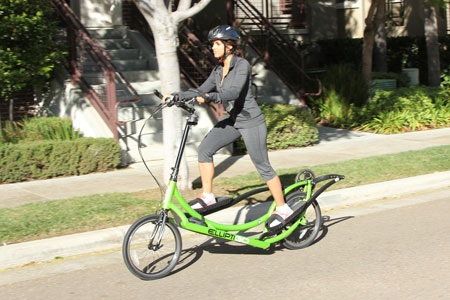 At first glance the ElliptiGo may appear to simply be an elliptical on two wheels, but the truth is much more technology and engineering has gone into making this piece of equipment. Not only does it mimic an elliptical in terms of providing a comfortable, low-impact, relative smooth ride—almost as if you're running through air—it also simulates a road bike in its ability to change gears and climb just about any hill while reaching speeds of up to 25 mph. Pretty cool, huh?
This unique piece of fitness equipment has been making appearances in a number of magazines and on a variety of TV shows, including The Doctors and Good Morning America, in addition to a variety of races and events. Given that ElliptiGo is now sold in a number of different countries, including the U.S., Canada and Australia, I was eager to take one out on the open road for a true test drive to see what the hype was all about.
With my helmet cinched on tight, I headed out on my 30-minute cruise around the neighborhood. The ElliptiGo operates much like an indoor elliptical in that you remain in an upright body position with your feet in the pedals while moving through your stride length, which provides a great form of low-impact, weight-bearing activity. The handles, on the other hand, are similar to that of a bicycle, in that they offer hand grips, a shifter (to change gears) and standard bicycle breaks that you squeeze to come to a complete stop.
I loved the feeling of striding away like I do on a standard elliptical, while also taking in the fresh air and sights of the outdoors. The particular model that I rode, the ElliptiGO 8C, features eight different speeds, which I tinkered around with as I worked to kick up the intensity of my ride. While the current price tag on the ElliptiGo is a bit steep ($2499.00 for the 8C model), the company does allow individuals to sign up for a test drive through their website, which I'd highly recommend.

Overall, the versatility of the ElliptiGo lends itself well to everything from a leisurely cruise around the neighborhood to add fun and variety to your cardio workouts, to a challenging, intense cross-training option for preparing for an upcoming event, such as a marathon or triathlon. Because it offers a low-impact workout, the ElliptiGo can serve as a great training tool for those seeking a new way to break a sweat outdoors. It's also a great option for former runners or those who may be looking to make their way back to training after recovering from an injury. In fact, I wouldn't be surprised to start seeing more of these out on the open road in the near future.
Have you tried the ElliptiGo?