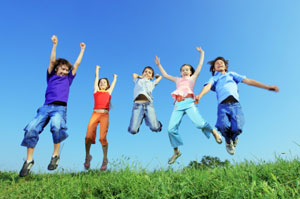 Childhood obesity has been increasing over the years in many areas of the world, along with obesity-related illness such as heart disease, arthritis, certain cancers and type 2 diabetes. Physical inactivity and sedentary lifestyle rank high as major risk factors to this growing epidemic.
In my 30+ years of working with kids, one thing I've learned about motivating them to exercise is that you have to keep it fresh and exciting. For many youth, exercising at the gym or home (as their parents may do) becomes boring and routine, increasing the likelihood that they will lose interest.
In 1989, realizing I had to motivate my students in their physical education classes to exercise, I created a program called Project ACES, which stands for All Children Exercise Simultaneously. Although Project ACES is not affiliated with the American Council of Exercise (ACE), they were kind enough to allow me to discuss it here, as many ACE professionals bring Project ACES to their local schools.
What is Project ACES?
Project ACES is the signature program of the Youth Fitness Coalition, Inc. (YFC), a non-profit educational organization based in New Jersey. Each year on the first Wednesday in May, millions of school children all over the globe exercise simultaneously in a symbolic gesture of fitness and unity to show the world that they do not fit the negative stereotype of being physically unfit. This non-competitive program has proven to be educational, motivational and fun. This year, May 1 marks the 25th anniversary of Project ACES, which has been supported by Presidents of the United States and nationally recognized organizations such as The American College of Sports Medicine. Recently, Olympic hero Dan O'Brien became the Project ACES lead spokesperson.
According to exercise physiologist H.J. Saunders, president of the YFC, Project ACES' goal is three-fold:
Help combat the health and medical risks associated with obesity and inactivity with fun, safe and educational activity programs for kids, parents and teachers.
Teach kids positive lifelong skills to help them make healthy decisions throughout their lifetime regarding physical activity, nutrition, exercise and stress management. Reinforce these skills with parents and teachers daily.
Help fill the void in schools and sites lacking physical education programs.
Children need to be physically active for at least 60 minutes every day, but according to published reports, many are not getting enough. Daily or weekly Project ACES clubs are an easy solution. "Healthy nutrition and smart exercise and activity only work if you do it continuously," explains H.J. Saunders. "Project ACES Clubs offer schools and sites a framework for that opportunity to teach and do."
What do the children do on Project ACES Day?
Children exercise, walk, jog, bike, dance, do aerobics or a combination of several different activities. Each club organizes its own participation assembly for the 15- to 45-minute program. There is no specific routine to follow—the goal is to have the children do some form of appropriate exercise when the program begins. Keep it simple and make it fun. To sign your school or club up for Project ACES, click here.
If you don't have access to a Project ACES near you, here are a few ideas to help kids share in the spirit of Project ACES on May 1 and beyond:
Rally together a group of neighborhood kids for an after-school walk around the neighborhood. Every few minutes, ask everyone to stop and do some kind of fun, high-intensity exercise for a few seconds and then get back to your walk. For example, 30-second activities could include jumping up and down as high as they can go or performing as many jumping jacks as possible.
Take your family to your local high-school track after school and set a goal of walking four laps (one mile) together.
If you are watching TV as a family, exercise together (do crunches, jumping jack or jog in place, for example) each time a commercial comes on the television.
Come up with a new family hobby that you kick off on Project ACES Day, such as jumping rope, hiking or bike riding. Maybe it will become a new daily habit.
It is springtime, so get in some great exercise (and a clean yard) by gardening or doing yard work together.