The Scoop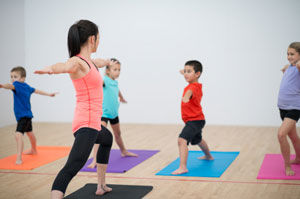 When we are relaxed, focused and healthy, we are better equipped to excel in our day-to-day lives. During our school years this is particularly important, because this critical time paves the way to achieving success as an adult. Over the years, yoga has become increasingly popular as more and more people recognize its ability to improve overall health and well-being. Recently, schools have begun to incorporate yoga programs into students' schedules, in an effort to improve their health and well-being, and in turn, their ability to learn. While some agree that this is a good idea and can greatly benefit our young people, some parents have opposed the idea because of yoga's ties to religion and spirituality.
Encinitas Union School District (EUSD) has been under fire since introducing yoga to its 6,000 students in August 2012 after receiving a $530,000 donation from the The Jois Foundation, a yoga center based on the ashtanga form of the practice. While the program is not mandatory, many parents are outraged, and one parent couple recently filed a civil suit against the school, requesting that they remove the yoga lessons because it hurts their children's religious sensibilities.
"EUSD's Ashtanga yoga program represents a serious breach of the public trust," the couple's lawyer, Dean Broyles, said in a statement. "This is frankly the clearest case of the state trampling on the religious freedom rights of citizens that I have personally witnessed in my 18 years of practice as a constitutional attorney," added Mr. Broyles, whose says the lawsuit does not seek money damages.
Despite the controversy surrounding yoga in schools due to its religious and spiritual ties, the White House has made a stand to support yoga and encourage Americans to incorporate the practice into their lives. In addition to hosting a "Yoga Garden" during their Easter Weekend festivities, they've also incorporated yoga into PALA+, the next phase of their PALA (Presidential Active Lifestyle Award) campaign, which is designed to motivate Americans to make physical activity and healthy eating part of their everyday life. Participants who complete the Yoga PALA Challenge and achieve their physical activity and nutrition goals receive a Presidential Active Lifestyle Award.
According to a statement made by the President's Council on Fitness, Sports & Nutrition, "Yoga has become a universal language of spiritual exercise in the United States, crossing many lines of religion and cultures. Everyday millions of people practice yoga to improve their health and overall well-being. That's why we're encouraging everyone to take part in PALA+."
So how do the parents in Encinitas feel about this?
"Regarding the PALA initiative, I am completely for encouraging kids to be healthy," says Dean Broyles, the attorney representing the families who object to yoga being taught in Encinitas Union School District, which manages nine schools.
"However, to the extent the White House may be using taxpayer resources to promote religion, I have a big problem with that since it is a violation of the Establishment Clause guaranteeing what many call the 'separation of church and state.' Religious freedom is a bedrock principle of our country. The government should not be picking religious winners and losers," adds Mr. Broyles.
On the other hand, David Miyashiro, assistant superintendent of education services in the Encinitas School District says, "I think that in all areas of exercise and fitness, folks of all beliefs and viewpoints are recognizing the benefit of stretching, strength building and breathing."
The school yoga hearing is scheduled to start on May 20, 2013. John Meyer, the judge presiding over the hearing, practices yoga himself, but has assured Broyles that he will rule based on facts and laws, not on his personal experiences and beliefs.
What does ACE think?
"Research continues to demonstrate the numerous positive physiological and psychological benefits that mind-body exercise like yoga provides," says Jessica Matthews, ACE Exercise Physiologist and Experienced Registered Yoga Teacher (E-RYT). "From improving flexibility, balance and muscular strength and endurance to enhancing cognitive performance, reducing stress and improving relaxation and overall psychological well-being, it's extremely encouraging to see both the government and schools embracing the practice of yoga and encouraging individuals of all ages and beliefs to engage in more physical activity to lead happier, healthier lives," adds Matthews, who is an associate faculty member at MiraCosta College, teaching courses in the Yoga Certification Program.
"We're facing an obesity epidemic in our country that extends to youth and offering yoga provides a positive opportunity for kids to move and feel empowered about their abilities to be active," says Todd Galati, ACE's Director of Credentialing, who is also a parent of an elementary school student.
What does this mean for me?
From animal-inspired yoga that your kids will love to unique yoga-inspired classes, there are a number of creative ways that you and your family can reap the many benefits of yoga in support of a more active, healthy lifestyle.