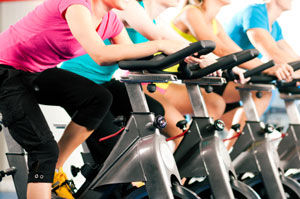 If you don't have a specific wardrobe item in mind, wandering between the racks in your favorite department store can be completely overwhelming. Similarly, reading through the descriptions on a group fitness schedule can quickly become a blur of energetic adjectives and exclamation points, making it impossible to decipher the best class for you if you don't have a specific exercise goal you're trying to achieve. Any savvy shopper will tell you, the way to get the biggest bang for your buck is to have a clear idea of what you want before you walk in the door.
I recently wrote about some of the newest group exercise classes you might see on your gym's schedule and what you can expect from those workouts. Here, I want to talk a bit more about your personal fitness goals and how you can choose the best classes to achieve them. Health clubs are supposed to work with you to help you get fit. However, it's common to see a well-meaning front desk person hand a member a schedule and enthusiastically tout the great variety of classes offered, while the poor member's eyes start to glaze over. When faced with dozens of exercise options, it's easy to make a time-wasting "impulse buy" out of sheer confusion. Make a few too many of these, and you may lose your motivation altogether.
Let me help you be more efficient with your time at the gym and retain your excitement about the potential exercise has for you—and don't worry, we'll keep it simple. Here's a breakdown of the four most common health and fitness goals and the classes that can best help you get the results you're looking for. Choose the goal you want to achieve first and circle any and all related classes on the schedule as described below.
Lose Weight
Classes for you: Indoor Cycling, Indoor Rowing, Treadmill Workout, Kickboxing, Boot Camp and Dance Fitness
Key Words: cardio, endurance, interval training, calorie burn, high-intensity training
Tips: Honestly, just about any class you attend regularly can help you lose weight! What you are looking for is maximum calorie expenditure for your time investment. Overall, the classes you choose should use big, total-body movements, get your heart rate up, and have you breathing from a steady to a breathless pace for the bulk of the time. If you are serious about your weight-loss goal, invest in a heart-rate monitor for a clearer picture of which classes are truly challenging you. Take classes that measure how hard you are working and show your progress (i.e., indoor cycling classes with monitors that feedback wattage and distance or indoor rowers that display pace). Numbers won't lie.
Gain Strength
Classes for you: Circuit, Strength Training, Sculpting and Boot Camp
Key Words: strength, strong, ripped, power, strength equipment (i.e., weights, barbell, Body Bar, kettlebell, medicine ball)
Tips: Heavier weights and muscular overload are what you are looking for in a class dedicated to building strength. If it's your first time, grab a few different sizes of weights to determine what feels safe, but also challenging. Most classes are designed to work the whole body because it's important to strengthen every muscle group. It's also most efficient and functional to do this using compound exercises (i.e., moves that use several muscle groups at the same time).
Training for a Running/Walking Event (5K, 10K, Marathon, etc.)
Classes for you: Run Club, Treadmill Workout, Indoor Cycling, Indoor Rowing, Yoga, Pilates, Core Training, Stretching and Foam Rolling
Key Words: cardio, endurance, stamina, walk, run, stretch, flexibility
Tips: Cardiovascular endurance, core strength and flexibility are the name of your game. The need for cardiovascular endurance is apparent, but while you might not need massive upper-body strength for these types of events, you will need to fight upper-body fatigue and maintain a strong core during a challenging run or walk. Also, repetitive walking or running can cause muscular imbalances and tightness over time, which is why flexibility training is the key to making it to Race Day.
Remember it's important to keep variety in your routine so your body doesn't get used to the activity and plateau. You also want to avoid the mental burnout that often comes from doing the same workout day after day. So, decide what you want to get out of the gym and go after it!