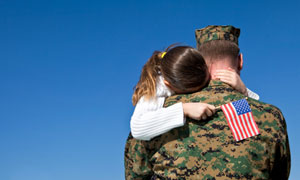 The American Council on Exercise (ACE) is based in San Diego, a city well known for its beautiful weather, beaches, high levels of physical activity and its large military population. With the Navy, Marines and Coast Guard having major installations in San Diego, more than 100,000 active-duty, retired and veterans of the armed forces live here. ACE is proud to support the military and draw attention to the Month of the Military Child.
April was designated "Month of the Military Child" in 1986 by former Defense Secretary Caspar Weinberger to highlight the important role and sacrifices of children of service members, who are repeatedly faced with cross-country moves, a deployed parent and other challenges, as well as the unique pride in having a parent willing to give his or her all for our country. Speaking from my own experience, my four-year-old son, who was born while my husband was on a 13-month deployment to Iraq, couldn't be prouder that his dad was a Marine Officer. Along with a "lawler" (lawyer), explorer and "seller," Marine tops his list of future careers.
In celebration of Month of the Military Child, we'd like to share a few ideas on how to support military families, especially the children, to provide them with the extra help and encouragement they need to thrive.
Reach out to military kids in your neighborhood, coworkers' families or your child's school and thank them for their sacrifice and their parent's service to our country. This simple gesture can go a long way in helping them to feel that their sacrifice is making a difference and is appreciated.
Volunteer for one of the many programs associated with Operation: Military Kids. For example, many 4-H clubs, Boys & Girls Clubs and YMCAs offer fun physical-activity programs to help military kids develop life-long healthy habits. Or, offer to fill in for a deploying service member who leads a local sports team or youth group.
Consider including a donation to programs that support military youth in your giving plans. For example, Operation Purple summer camp provides opportunities for military kids to have fun in active environments, while also gaining skills to deal with the stresses of a parent's deployment.
Build empathy in your kids by reading books about deployment and military families. A list of ideas is included here. Books like these will help your kids understand what their military friends and classmates are experiencing when a parent is deployed or they have to get ready for yet another move.
Together with your child, prepare a care package for a deployed service member. Make sure to include a note from your child in the package expressing thanks for the service member's service. Any Soldier offers information on how to send care packages to soldiers, Marines, airmen and Coast Guard members overseas. Or, consider putting together a care package for the parent and family still at home. For example, when my son was born I received an extraordinarily generous package from Operation Shower, who was notified of my husband's deployment by a supportive friend living on the opposite end of the country.
Know when families in your network are going through a deployment, homecoming or reintegration and be a source of support. Take extra care to integrate a child with a deployed parent into your child's social plans; offer to babysit for a friend whose spouse is deployed; deliver an unexpected meal to a family that may be coping with the deployment of a family member or celebrating the homecoming of a previously deployed parent.