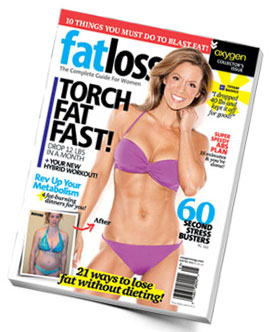 With summer right around the corner, who doesn't want to sport a leaner physique? I chatted with registered dietitian and Oxygen Magazine cover model Tiffani Bachus to learn the diet tips and tricks that help her get in camera-ready shape.
We know a regular fitness routine is a critical component to living a healthier life and sporting a more sculpted physique, but from your own experience as a fitness model how big of a role do you feel diet plays in the equation?
What I eat makes or breaks my foundation. I'm very sensitive to what I eat, Unfortunately, eating too much gluten, sugar, high-fat foods and sodium sends my body over the edge. When my goal is to shed fat, I focus on my food choices. Exercise helps maintain my weight and sculpts my physique, but my diet gets me "lean."
What does an average day of nutrition look like for you?
A basic average day of nutrition looks like this:
7:00 a.m. Breakfast: Protein pancakes with banana + maple syrup
10:45 a.m. Post-workout snack: 1/3 cup 2% cottage cheese + ½ banana + 1 Tbsp. raw almond butter
1:00 p.m. Lunch: Salad made with spinach + 4 oz. chicken + veggies + 1/3 cup Quinoa + 1 Tbsp. sunflowers + homemade salad dressing + sometimes a piece of dark chocolate
4:00 p.m. Snack if needed: 8 oz. green smoothie + walnuts
6:30 p.m. Dinner: 4 oz. salmon + roasted vegetables + ½ sweet potato
What foods are staples in your diet and why?
Leafy greens and other veggies provide copious amounts of nutrients and phytochemicals. My favorites are asparagus, broccoli, kale, spinach, zucchini and cucumbers. These fibrous carbs keep me satisfied and fill me up.
Sweet potatoes contain vitamins A and C, manganese, fiber, B vitamins, potassium and even iron. In addition to keeping me satisfied, sweet potatoes also taste delicious plain or with a little cinnamon on top.
Salmon is a rich source of omega-3 essential fatty acids—EPA and DHA.
Chicken, eggs, bison, turkey and tofu are great lean proteins choices to rotate through my diet.
Seeds (my favorites include raw sunflower, pumpkin, flax and chia seeds) contain the essential omega-3 fatty acid alpha linoleic acid. Seeds are easier for me to digest than nuts and I tend to not overeat them like I do with nuts.
Apples and berries – I don't eat a lot of fruit, but apples (pectin- fiber) and berries are also full of vitamins, minerals and fiber.
Oats, amaranth, millet, rice and quinoa are great starchy grains to add into my diet.
Are there any unique foods that you include in your diet that readers should consider giving a try? If so, what makes these foods so good?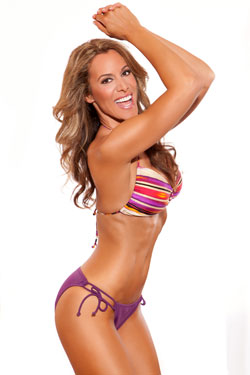 Chia, flax and hemp seeds - I like adding seeds to my salads and smoothies. They are packed with nutrients and they add a crunchy, nutty texture and flavor.
Almond flour - I often swap gluten-containing ingredients for other options. Almond flour provides higher amounts of protein than wheat flour and is rich in vitamins, minerals and fiber.
Date sugar – An item that I use for baking in addition to almond flour is date sugar, which consists of dates ground into tiny pieces that are loaded with iron and fiber, as well as other vitamins and minerals.
Amaranth - This gluten-free grain provides protein, fiber and plethora of vitamins and minerals. One cup of cooked amaranth provides 5 grams of fiber, meeting 20 percent of the daily fiber recommendations for women, as well as 9 grams of protein. I enjoy amaranth as a healthy hot breakfast cereal topped with chia seeds, raw honey and baked apples.
What diet tricks have you found have worked well for you personally in terms of getting in swimsuit-ready shape?
First, I start by breaking bad habits. I seem to get relaxed on my diet on a day-to-day basis when I do not have any upcoming competitions or photo shoots. I find writing down what I eat gets my head back in the game and is the time where I really visually see what I'm consuming and when I'm doing so.
Typically, I find myself snacking after dinner and during the late afternoon, not eating enough for lunch and not drinking enough water. Once I take note, I start the tweaking:
Start the day off with a balanced breakfast, making sure to include approximately 20 grams of protein.
Drink at least six to eight cups of water by 12:00 p.m. and another four to six cups before bedtime.
Eat a post-workout snack mid-morning.
Sit down and take at least 20 minutes for lunch.
Plan that afternoon snack the night before so I don't start trolling the pantry or refrigerator.
Eat a balanced dinner, with only plant-based carbohydrates.
Stop eating after 7 p.m.
Go to sleep by 10:30 p.m.
As I get close to a competition or photo shoot, I may add a 30-minute walk around 8:30 pm at a light-to-moderate intensity. Not only do I get more activity in but it also keeps me out of the kitchen after dinner.
As a registered dietitian, what are the most common misconceptions about diet that your clients have? What information do you share with them to help set the record straight?
Often I hear people say "I can only lose weight when I stop eating carbohydrates." The truth is carbohydrates are an essential macronutrient responsible for the body's primary source of energy. However, not all carbohydrates are created equal. Consuming carbohydrates that originate from processed foods, hydrogenated oils and sugars can wreak havoc on your waistline and should be avoided as much as possible. Carbohydrate-rich whole foods such as grains, fruits, vegetables, seeds and nuts actually increase our quality of life and help us to lose weight. Furthermore, following a low-carb diet long term deprives your cells of energy you need to function physically and mentally. This action forces the body to use lean muscle mass for energy, which reduces your metabolism, leading to inevitable fat weight gain.
Do you have a favorite easy-to-make recipe that you and your family love that you could share with our readers?
Here's a sneak preview of my delicious Protein Pancake recipe from my No-Excuses Breakfast Cookbook, which will be released this fall.
Banana Cinnamon Protein Pancakes
Ingredients
¾ cup old-fashioned rolled oats (dry)
3 eggs (2 egg whites + 1 egg)
1 tsp. baking powder
1/3 cup cottage cheese
1 tsp. honey (preferable raw)
½ scoop protein powder (plant or whey)
¼ cup unsweetened rice milk
½ banana (slices)
Cinnamon to taste
Olive oil spray
Directions
Pour all ingredients into blender and blend until well combined. Preheat pan on stove to low/medium heat. Lightly coat pan with olive oil spray. Pour desired amount of batter into preheated pan and cook for 3 to 4 minutes. Add sliced bananas and a dash of cinnamon on top of each pancake. Turn pancakes over and cook for another 3 to 4 minutes until edges turn brown. * For my kids, I add chocolate chips on top of each pancake with the bananas.
Looking for personalized nutritional guidance? Consider enlisting the services of a registered dietitian!