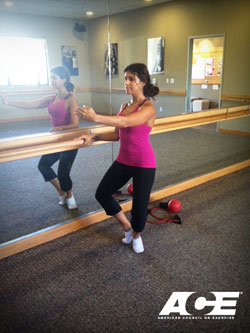 With many women in awe of the "long, lean dancer's physique," it's no surprise that dance-based fitness classes are all the rage, including the hot new formats that center around the ballet barre. While it's been a few years since I last found myself practicing first position,
I decided to head out to see for myself if a barre fitness class would really have me breaking a sweat.
What is it?
Pure Barre® is a class format that utilizes the ballet barre to perform small movements that add up to a total-body workout. Additional focus is given to commonly cited "trouble areas" of the body that many women seek to shape, specifically the hips, butt, abs and arms.
My experience
The class was set to upbeat music and featured an assortment of small, subtle movements performed in both seated and standing positions (and sometimes somewhere in between) and a continual emphasis on proper alignment and core stabilization (be prepared to do some serious tucking!). Featuring strengthening and stretching exercises using the ballet barre along with other small, portable pieces of equipment—such as light hand weights, a small rubber ball and resistance tubing—the class blended elements from Pilates and ballet with stationary strengthening exercises, such as planks, and yoga-inspired stretches to create a fun, yet challenging fitness experience.
One highlight from the class was discovering just how challenging such small movements can actually be! I'll admit, it was pretty humbling to see my fitness challenged in an entirely new way—one that is very different from how I usually work out—and to find my legs completely shaking while doing something as "simple" as repeatedly lifting my leg one inch. (Let me tell you, it's not as easy as you may think!) I enjoyed the continued focus on core engagement, balance and posture throughout the class as well.
What I wore
Any type of apparel that would be suitable for a dance, Pilates or yoga class is a perfect fit for Pure Barre. I opted to wear one of my favorite lululemon fitted tank tops and capris; however, leggings or full-length pants are also suitable options for this class format. One important piece of clothing that you may not think would be needed is a pair of socks (something I was fortunate enough to have in my gym bag), so be sure to wear or bring a pair with you.
Who is it best for?
Because the class does not involve any type of bouncing or jumping movements, it provides a challenging workout that's easy on the joints, making it a suitable option for individuals who are newer to fitness. It's also a good fit for those simply looking for a new way to challenge their bodies!
What to watch out for
As with any fitness class, it's important to seek out a qualified instructor, ideally someone who holds a current group fitness instructor certification in addition to completing the Pure Barre instructor-training course.
Final word
Overall, my experience at Pure Barre was challenging, humbling and fun. I will admit to having been a bit skeptical about how effective a workout comprised of such small movements with little to no resistance could really be. However, after trying the moves out for myself I can attest to just how tough they can be, as I was definitely feeling it in just about every muscle in my body the next day. I found Pure Barre to be a great complement to the kinds of activities I normally gravitate to in my regular workouts, and am excited to head back for another round at the barre soon!