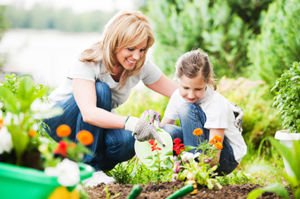 Starting a backyard garden with the kids offers an unmatched opportunity for them to learn about their environment and basic biology, and help out by planting, watering and weed picking. It's also a great way to increase their physical activity—gardening burns calories and is also an effective form of resistance training. And, here's the best part—kids are more likely to eat what they grow, so for once, your veggie-hating four-year-old might actually voluntarily try the spinach if he knows that he grew it! When kids garden, they learn that food comes from the ground, not from a cardboard box.
If you're like me and you're new to gardening, the idea of starting a garden might be a bit intimidating. While I've had a few windowsill herb gardens over the years, my only experience with backyard gardening was when my sister and I experimented with a veggie-patch in middle school. I remember a lot of really tall weeds and a gigantic zucchini. Needless to say, I was not born with a green thumb. But that is all changing (I hope).
After a lot of research and some trial-by-error and tweaking, this spring my 4-year-old son, 2-year-old daughter, husband and I planted our first backyard garden.
Here is a sampling of the best advice I learned along the way.
Check your timing. Different plants thrive when planted at different times. April is typically the best time to begin a vegetable garden in most parts of the country because it is usually well after the last frost. If you begin planting when the soil is too cold, germination of the seeds will occur more slowly, increasing the seed's susceptibility to fungus and other diseases. Once you know that your timing is right, get the kids excited by letting them know they'll be growing their very own garden this year.
Check your "zone." The United States Department of Agriculture divides the country into different zones, based on the climate (known as Plant Hardiness Zone Map). Know your zone before heading out to purchase the seeds so you actually choose plants that will thrive in your climate, thus increasing the likelihood that you'll actually have a vegetable or fruit to eat in the summertime. Involve older kids by exploring the map together and figuring out your area's zone number. For example, I live in San Diego, which is zone 10a where low temperatures are 30-35 degrees F. If you have any trouble figuring it out from looking at the map, simply enter your zip code and the program will tell you your zone.
Pick your plot. Most plants thrive where there is good sun (at least six hours of sunlight per day) and good soil. To give your plantings the best possible advantage, check the pH of your soil to make sure that it is right for planting. Your local cooperative extension can help, or you can purchase a soil-test kit and check it yourself (about $10 to $50 for multiple tests). If you prefer not to have to worry about the soil pH, you can also opt to use raised garden beds or planters and purchase potting soil.
Prep your soil. If you'll be planting in-ground, the soil needs a little prepping before you can start planting. Loosen about 12 to 18 inches of soil with a garden rake and then dampen the soil with water. Let it soak for a day or so and then add about 4 to 6 inches of organic material, such as composted manure. Let it sit for a couple of days then work the compost into the soil. Recruit the kids to help with the raking and watering. If you are using a raised bed or planter, choose the best quality potting soil that you can afford to supply adequate nutrients to the plants. Also, read the package instructions to see what additional ingredients or fertilizers you should add.
Pick your plants. While it is tempting to just head out to your local garden center and pick up the best looking herbs and veggies they've got, to actually have a successful garden, you need to do some planning. Some fruits and vegetables like tomatoes and green peppers can grow in a relatively small space. Others like peas, beans, squash, melons and pumpkins need several feet between plants. Before you head to the store, note the dimensions of your garden space and then read the backs of seeds packages to know how much space you need between plants to be sure they will all fit. Engage in the kids in helping pick out the seeds. Explain to younger kids how the seeds grow up to be big plants that they can eat and that help to make their bodies healthy. Some stores sell garden kits for kids with vegetables guaranteed to grow. You can opt for those, or simply pick the easiest-to-grow fruits and veggies like tomatoes, cucumbers, carrots, watermelon and cantaloupe (if you have the space).
Start planting! Together with the kids, grab your shovels and start digging. Most plants need a depth about twice their diameter. Plant seeds in rows about 4" to 5" apart (depending on the plant). Plant rows about 2 to 4 feet apart. If you want to time it so that you'll have a continuous supply of veggies through the summer and early fall, plant vegetables like lettuce, peas, beans, carrots and radishes every two to three weeks.
Water, watch, weed and wait. After planting the seeds, give them a good watering (this is my kids' favorite part) and continue to water about once or twice per week. And wait. Within about two to three weeks from planting, you'll start to see seedlings popping up through the soil. You will also start noticing weeds, which should be regularly plucked from your garden (make it fun for the kids by setting up a competition to see who can pick the most weeds). In no time, the kids will begin to recognize the growing fruits and vegetables.
Harvest and enjoy! After a couple of months, the hard work will pay off with your own fresh and delicious fruits and vegetables for the whole family to enjoy.
For more ideas and tips on gardening with the kids, check out How Kids Can Help in the Garden from fruitsandveggiesmorematters.org and Partnership for a Healthier America's Gardening for Kids Pinterest page. For suggestions on how to start your garden and gardening with kids, National Gardening Association also offers suggestions for starting your garden and gardening with kids.