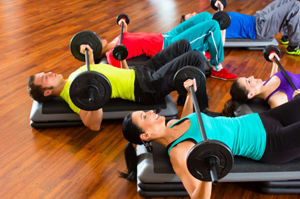 If you've already given these buzz-worthy classes a try, consider checking out the four hot new fitness classes below to bring some new energy and intensity to your workout routine.
Shockwave
The new kid on the circuit-training block, Shockwave is a full-body workout that incorporates rowing.
They Say
Dubbed by the media as "the most efficient total-body workout in the world," ShockWave is extreme cross training at its best. This circuit challenge utilizes a specially designed WaterRower machine to provide short-burst, high-intensity, calorie-torching intervals, while functional strength and sculpting stations target and chisel the legs, core and arms.
The Real Deal
Shockwave really is a high-energy, high-intensity, total-body workout. It is designed as a circuit class, but instead of changing stations with a whistle blow or timer, you stay working at a station as long as it takes those who are on the rowers to complete a certain distance. This adds frenetic competition and team camaraderie and makes the 45-minute class feel much shorter than it really is.
Who It's For
Because working on a "team" is a primary feature of a Shockwave class, it's important to know you will be paired with other sweaty, enthusiastic people. If you prefer working out alone, just stick to the cardio deck. But if you are motivated by the energy of racing (and the sound of other people shouting your name), Shockwave is for you. This high-intensity class welcomes participants of all levels of fitness—just be prepared to work with a capital "W."
Barry's Bootcamp
This is NOT your average boot camp. The buzz on Barry's Bootcamp is that it makes exercisers (including celebrities) break a serious sweat.
They Say
According to its website, Barry's Bootcamp has revolutionized group fitness by delivering "The Best Workout in the World" to a legendary following, including many celebrities. Barry's Bootcamp combines intense cardio with strength training, and each class is enhanced by the most current music, easy-to-handle equipment, nightclub lighting, and the city's most qualified trainers who happen to look like movie stars.
The Real Deal
Barry's is different from other boot camps in that it doesn't feature the usual running, push-ups and squats until you pass out that is often synonymous with boot-camp workouts. Every day, the class targets a different muscle group so over the course of a week, you will feel totally sculpted. This is all done to bumping music and lights to get you pumped up and energized.
Who It's For
If you like the feeling of boot camp (hard work, total body exercise, an instructor/coach telling you what to do), group-fitness-class energy and an occasional night-out dancing, you should definitely try Barry's. Unlike other boot camps that only offer crack-of-dawn classes, Barry's offers classes all day long.
Orange 60
Take a bite out of this—Orange 60 is a class only offered at Orangetheory Fitness studios.
They Say
Orangetheory Fitness has been featured in The New York Times as an effective new plateau-busting workout in which participants can burn up to 900 calories in a 60-minute session. Backed by the science of post-exercise oxygen consumption (EPOC), this heart rate-monitored training is designed to keep heart rates in a target zone that stimulates metabolism and increases energy. The result is the Orange Effect—more energy, visible toning and extra calorie burn for up to 36 hours after your workout.
The Real Deal
Orange 60 is a heart-pumping, high-intensity, timed circuit-style workout. A large portion of the class involves treadmill running, mixed with full-body strength training and rowing. A unique aspect of this class is getting to see your progress and intensity during the workout up on a big screen (displayed as your heart rate "zone"), which might motivate you to push harder and longer to achieve maximum numbers.
Who It's For
The loud music and techno-colored lights add an exciting party element to the atmosphere. If you like the treadmill, are motivated by metrics and don't mind your heart rate and training intensity broadcast for everyone to see, Orange 60 offers a new, physiologically sound approach to group high-intensity interval training.
R.I.P.P.E.D.
R.I.P.P.E.D. is a little bit of everything, but will this class deliver results that live up to the name?
They Say
This total-body "plateau-proof fitness formula" workout masterfully combines Resistance, Intervals, Power, Plyometrics, Endurance and Diet (hence the name, R.I.P.P.E.D.) to help you attain and maintain your physique in ways that are fun, safe, doable and extremely effective.
The Real Deal
RIPPED is a well-rounded workout, with every class featuring a balanced mix of cardio and strength. A primary difference between RIPPED and other strength or cardio classes is that RIPPED is choreographed. This means that you will learn one pattern, build on it until you have several patterns to put together, and then perform the full combination eight or more times. This makes for lots of repetition and a chance to master the moves. RIPPED is similar to a dance class, but there is NO dancing involved—just high-energy music and even higher-energy instruction.
Who It's For
If you like choreography and want a full-body workout, give RIPPED a try. It feels like group exercise because of the instructional approach, but it's also got a strong boot-camp, interval-training vibe. If you can't follow moves set to music to save your life, however, the rhythmic quality of this class might be more frustrating than motivating.
Ultimately, if you want the best, most accurate review of any new class, you really have to try it yourself! So grab your gym bag and start sweating.