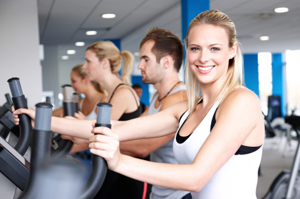 Fitness professionals are no different than the rest of us— they work long hours, have families and travel on business. And believe it or not, they occasionally struggle to mentally prepare for a workout, especially when their alarms go off before the sun is up. So how do they get motivated to get moving? Check out these tricks that health and fitness experts use to make time for fitness.
1. Get Geared Up Before You Decide
"When I'm lingering around the house, debating on going for a run or not, my husband always says to me, 'Go get your running clothes on and then decide,' and that always seems to work. Once I'm geared up the choice is easy, and I'm out the door."
- Julz Arney, ACE-certified Group Fitness Instructor and Master Trainer for Schwinn® Cycling, BOSU® and Shockwave™ workouts
2. Start Early and Socialize
"When I'm working on a big project, like one of my online summits, I know that the only way I'll be getting my butt into the gym is if I go first thing in the morning, because more often than not if I miss that morning window I end up not going. I also make it a point to work out with friends so I get my social time in, too. My friends help keep me accountable and if I miss a day, I know I'm going to hear about it the next day."
- Sean Croxton, founder of Underground Wellness and host of Underground Wellness Radio
3. Make a Deal to Get Moving
"When I'm really dragging my feet to work out, I make a deal with myself that I only have to move for 10 minutes. I even set a timer. If I still want to quit after that I can, but at least I feel like I have done something and every little bit counts! I'd say nine times out of 10, I still keep moving after that timer goes off because the hardest part for me is getting started. But there are some days when just 10 minutes is enough too and I don't beat myself up over it."
- Jessica Smith, certified wellness coach, personal trainer and star of the "Total Body Balance" DVD
4. Make Fitness a Priority
"With my job, travel and volunteer work I often manage to fill a 24-hour day with 27 hours-worth of obligations. My secret to staying fit during those stressful times? Plan ahead. Long before I fill up my appointment book I have already scheduled a workout for each day, and it's written in pen so it takes priority. The moment I begin thinking about scheduling something over the top of it, I review the goal list I set for myself in January and ask myself, 'Will skipping this workout help me achieve any of these goals?' The answer is usually no."
- Shana Martin, ACE Master Trainer, TRX Master Instructor and Fitness Director at Supreme Health and Fitness
Need some more workout motivation? Check out these 25 motivational fitness quotes from ACE-certified Personal Trainer and fitness expert Chris Freytag!