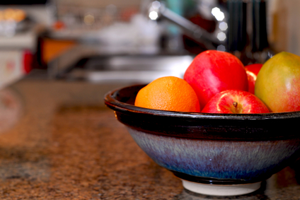 Is your spring cleaning well underway? Have you considered adding your kitchen to the list of items to de-clutter and revitalize? If the goal of getting healthier is a constant, ongoing process at your house, a healthy kitchen makeover may be just what your family needs.
Get started with a pantry and refrigerator makeover. Finish your kitchen makeover by setting the stage for a family of healthy eaters with a countertop & table refresh.
Part 3: Countertop and Table Refresh
You can decrease kitchen clutter and increase the number of fruits, vegetables and other healthy foods your family eats by simply re-engineering how you organize, decorate and use kitchen countertops and the kitchen table.
Step 1. Re-Organize Countertops and Tables
Do your kitchen counters tend to accumulate a mass of papers, magazines and other "stuff?" Decrease your kitchen clutter by cleaning off the countertops and kitchen table and relocating the "stuff" to a file box or by creating an organization system to minimize the clutter. Likewise, if a variety of small kitchen appliances like a blender, toaster, coffee maker or other gadgets have filled your countertops, try to clear some shelf space for them. Do you keep a cookie container, candy bowl or other highly visible and not-so-healthy snack on your countertops or tables? Get rid of it.
Step 2. Decorate
Now that you have cleaned off your counter space, you can re-decorate in a way that promotes a healthy kitchen. Start with a bowl of fresh fruit. Place it in a highly trafficked area and your family's fruit consumption will increase immediately. Next, engage the kids, spouse or a friend in starting an indoor herb garden. It may be just a few staples like basil and oregano, or you could be more elaborate. People (especially kids) love to eat what they grow. This small and easy-to-care-for garden will increase healthy food consumption and help to liven up home-cooked meals. Finally, place a vase or two of fresh flowers on the kitchen counter and the kitchen table. The flowers will brighten up the kitchen and make it a more enjoyable place for the family to spend time together.
Step 3. Use
Now, you will want to use your countertops and kitchen in a useful way. Your counters should have ample space for food preparation. Clearing the clutter from your kitchen will make it more useful for cooking and more appealing for the family to sit down together for mealtimes.
Now that you have given your kitchen a makeover, from the pantry and refrigerator to the counters and tables, you can enjoy your success by preparing a healthy, nutrient-dense meal for the whole family to enjoy. Set the table, turn off the television and other "screens" and sit down together to enjoy a family dinner.