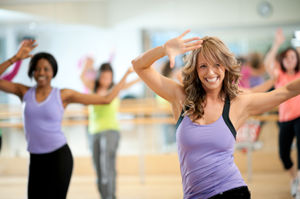 Have you ever checked the group fitness schedule at the gym and, with names like GROOV3, Piloxing and Pound, thought you were ordering at a sushi restaurant? Are these workouts or the lunch specials? While the names are catchy, they don't tell you much about what type of workout you're in for. Reading the class description may help, but the best way to find out what a class is like and, more importantly, if it is right for you, is to ask around.
Here are three hot, new buzz-worthy classes debuting at a gym or studio near you. Compare what "they say" to the real deal and learn what class is best for you. Who knows, you may even step out of your comfort zone and find your new exercise obsession!
GROOV3
GROOV3 is a fresh approach to "old skool" dance fitness. Currently, classes are only offered in the Los Angeles area, but keep an eye out for this program's expansion.
They Say
60 minutes of high energy, non-stop dance to get your blood pumping, and featuring a live DJ spinning the hottest jams to keep you GROOV3ing.
The Real Deal
Unlike other current dance-fitness classes, where you learn one dance routine per song, in a GROOV3 class you learn one longer dance throughout the workout and "perform" it in groups at the end of the workout. The choreography is mostly "old skool" hip hop and is taught "half tempo" (i.e., slowly), so it is easy to learn. Even so, it provides a low-intensity cardio workout.
Who It's For
You don't need any dance training to have fun and be successful in this class. In fact, the lights are so low and the music is so loud no one will even notice if you make a mistake! The live DJ brings an authentic nightclub feel to the workout, so if you like to dance and want to feel like you are in a music video or out on a Friday night, this is your groove.
Piloxing
Offered as a live class and also available on DVD, give Piloxing a try and see what the buzz is all about.
They Say
Join the latest Hollywood celebrity fitness craze sweeping the nation! PILOXING uniquely mixes Pilates and boxing into a fat-torching, muscle-sculpting workout guaranteed to whip you into shape. Experience the transformation as you attain a sleek, sexy and powerful self-image.
The Real Deal
This class format is exactly what the name implies—a refreshing combination of Pilates and cardio boxing. The Pilates sections are more hard-core than a traditional mat class, but the class overall is less intense than a traditional kickboxing workout. Performed barefoot, the choreography is easy to follow and definitely gets your heart rate up, and the total-body conditioning is core-focused and moderate in intensity. Positive affirmations are a big part of the cueing and also serve to motivate you throughout the hour.
Who It's For
If you are looking to change up your current workouts with an all-in-one style class, Piloxing is a great option. It is geared primarily toward women, but it is a respectable cardio workout for anyone.
Pound
Featured on several morning talk shows, Pound is gaining some serious momentum.
They Say
Concert-meets-cardio is the essence of POUND, and hidden within the music and fun is an amazing 45-minute workout. POUND rivals the difficultly of an extreme boot-camp workout, the effectiveness of an intense Pilates session and the benefits of cardiovascular interval training, but masks the intensity of all three with the feeling of rocking out. Stress relief, weight loss and improved strength are simply side effects of making music, enjoying the beat and jamming.
The Real Deal
At first you might feel a little silly with sticks in your hands banging imaginary drums. (Yes, you will be given a pair of drum sticks and led through full-body movements while pretending you are the drummer in a band.) But to truly appreciate anything in life you need to let your inhibitions go, and this is the place to do it. This moderate- to high-intensity aerobic workout combines motivating music with a rock star vibe.
Who It's For
If you like dance fitness and are looking for something fun or just different from your usual workout routine, POUND could be your ticket. Because it's not a true "dance" class, you don't need to worry about being a prima ballerina, but a good sense of rhythm is key to feeling successful.
Overall, if you want the best, most accurate review of a class, you have to try it yourself! So grab your gym bag, get out there and start sweating.