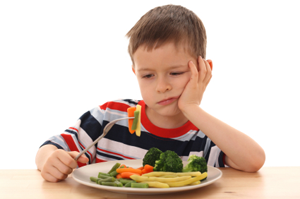 The Robert Wood Johnson Foundation (RWJF), National Public Radio (NPR) and Harvard School of Public Health recently set out to understand parents' knowledge, attitudes and beliefs about childhood obesity and what it takes to raise healthy, active children. The findings were insightful and, in many cases, surprising.
The researchers polled 1,018 randomly selected caregivers of children ages two to 17 years. They asked them questions about daily challenges, perceptions of children's nutrition and activity patterns, family mealtimes, sleep patterns, and cultures and customs around special events.
National Public Radio aired an excellent and detailed eight-part series on the poll results, and we have summarized the five key findings for you here:
Almost all parents said they believed that it is important for kids to eat healthy, be active and maintain a healthy weight. But almost half of parents acknowledged struggling to get their kids to eat this way and one-third struggled to make sure that their kids get enough physical activity. Seventy-three percent of parents reported that their biggest nutritional challenge was their kids' taste preference for junk foods. Families that were not active most often reported challenges in fitting activity into their schedules (49 percent) and that their kids preferred other activities (46 percent).
Almost three-fourths of parents polled believed that their child was at a healthy weight and 80 percent of parents did not believe their child would be overweight as an adult. This is in contrast to national data that shows that one-third of kids and two-thirds of adults are overweight or obese, suggesting that one-third of normal-weight kids will grow up to be overweight adults.
Half of families reported eating dinner together six or seven nights per week. This is at about the same rate as families in the 1990s. These days, instead of eating around the kitchen table, people are more frequently eating out, eating in locations other than the kitchen and not sharing the same food. Families also are more likely to be distracted by television, cell phones, laptops and tablets. Families that don't regularly eat together reported challenges juggling work and extracurricular schedules.
Parents want their kids to eat better, but several commonly adhered to cultures and customs may interfere with the long-term success in helping kids make healthy choices for themselves. For example, many families enforce mealtime rules, such as eating everything on one's plate (25 percent) and restrictions on the types (45 percent) and amounts (29 percent) of food and drinks consumed. These tactics are thought to increase overeating and make less-healthy foods more desirable to kids. In the past year, nearly 100 percent of children of the families polled attended a family social event with unhealthy foods like chips, fried foods, fast foods or sweets, and nearly half reported attending such events monthly. About 40 percent of children were involved in decisions about what to eat at family mealtimes and 25 percent helped to prepare the food.
Almost all parents said they believed that sufficient sleep is important and 90 percent of children had a set bedtime, with two-thirds of kids getting to bed on time.
This poll highlights what we already know—parents want their kids to eat healthy and be active and it is a daily struggle to actually make that happen. Up against hectic schedules and an environment that promotes unhealthy foods and physical inactivity, parents have a hard time getting their kids to break a sweat and eat their vegetables.
By making a few changes in their parenting approach, parents can take the stress out of mealtimes and the endless struggle to raise healthy, active kids. Parents who practice authoritative parenting—ensuring basic structure and rules are in place, but allowing a child an opportunity to make decisions and choices—raise healthier kids. When it comes to healthy eating, parents decide what food is available for meals and snacks and when it is offered, and the child gets to decide what to eat and how much. The parent gives the child choices and options, but the child is allowed to exert some control and make decisions. This can be applied to physical activity as well—a parent decides when it is time for activity and for how long, while the child gets to choose what type of activity to do. Ultimately, this balance helps children to learn to like healthy foods and fun physical activities.
Here are a few ideas for how to put authoritative parenting into practice in your home and overcome some of the barriers to raising healthier kids identified in this poll:
Stock the pantry and refrigerator with healthy foods for the family. Include a fruit and vegetable at every meal. Involve your kids in choosing and preparing meals. Consider planting a fruit tree or small garden or even growing something as simple as a few herbs on your windowsill. Kids are more likely to eat what they grow, choose or help to prepare.
Make it taste good. Taste is the number-one predictor of whether a child will eat a food. Kids have an innate preference for sweet and salty and an innate distaste for bitter and sour. Pair bitter vegetables with sweet fruits to increase acceptance of the vegetable and up your child's overall daily intake of produce.
Be a good role model for your children. One of the great (sometimes unintended) benefits for parents committed to raising healthy, active kids is improved health and body composition for themselves, as well.
Create positive emotional experiences with healthy foods. To help counter all the positive emotions your child will develop with less-healthy foods (e.g., cake at birthday parties, candy at Halloween, baked goods as holiday gifts), create positive emotional experiences by engaging in healthy, food-focused activities, such as a farmers' market trip, a family garden, etc., and healthy non-food activities, such as a visit to a bookstore or museum.
Teach your kids to rely on internal cues of hunger and fullness to guide intake. Don't require them to "clean their plates."
Offer healthy foods often. Remember, it can take kids 15 to 20 times of trying a food before they come around to liking to it, but they do come around.
Build physical activity into your daily schedule. Give your child choices of what activities to do. Kids are more likely to love being active when they perceive it to be fun!