This match-up is all about kicking up the intensity and getting your heart rate up as you work your entire body. Try these two moves and let us know which one you like best!
Mountain Climbers

Begin in a high plank position with your toes and hands on the ground, placing your hands just slightly ahead of your shoulders and keeping your abdominals engaged and shoulders strong. Bring your left foot forward and place it on the ground under your chest, keeping the right toes tucked under and the heel up. Keeping your core engaged and hands firmly on the ground, jump and switch leg positions, placing your right foot under your chest and your left leg fully extended back behind you. Continue to repeat on each side, keeping the weight evenly distributed on both legs.
Tuck Jumps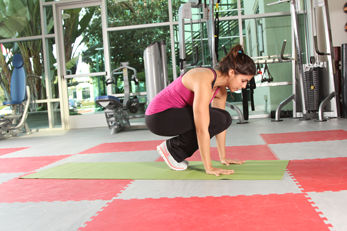 Get some hang time with this move that's commonly seen as part of a burpee. Lie on your stomach and place your hands directly underneath your chest with fingers pointed forward. Press up into a high plank position by tucking the toes under, engaging the quadriceps and lifting your body off of the floor, keeping the abs engaged and your head aligned with your spine. Using the strength of your entire body launch your lower body into the air as you jump the feet between the hands at the top of the mat, coming to a low squatting position. When you're ready prepare to go airborne once again, jumping the feet towards the back edge of the mat as you return to your starting high plank position.