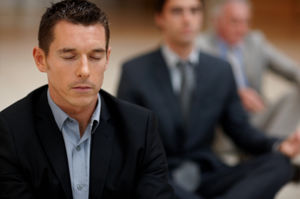 We know that yoga does the body good from the findings of ACE's 2005 yoga study, which found that a regular practice of hatha yoga significantly improves flexibility, muscular strength and endurance, and balance. But did you know that yoga can also help organizations with their bottom line?
After experiencing a ski accident, Aetna CEO Mark Bertolini found himself in a fog from the prescribed pain and nerve medications. When he lost the ability to think and function clearly, he turned to yoga and was amazed by the results. Not only was he able to wean himself off the drugs, he also regained his focus and was able to get back to work with a clear mind. So impressed by the power of yoga, Bertolini teamed up with eMindful and the American Viniyoga Institute to conduct a 12-week study to determine the effects of practiced meditation and therapeutic yoga for stress reduction among Aetna employees.
The results of the study largely mirrored Bertolini's experience—employees who participated were less stressed and more productive. "Employees who are facing the highest levels of stress cost their employer an average of $2,000 a year more in health care costs than the average employee," Bertolini told CNBC. By reducing employees' stress and increasing their productivity, employers can save approximately $3,000 per year.
Bertolini also mentioned the importance of being present—a factor that they were not able to measure in the study. By being present on the job, employees are able to make better decisions for the organization, which could have long-term effects that would be seen over time.
Arianna Huffington chimed in on the topic in Huffington Post, urging organizations to pay attention to these findings and offer mindfulness programs for their employees. According to Huffington, the World Health Organization estimates that stress costs American businesses as much as $300 billion each year, with self-reported stress levels drastically increasing among both men (25 percent) and women (18 percent). Considering the tough state of our economy, happy and healthy employees may offer businesses a competitive advantage at a time when they need it the most.
"It's encouraging to see that many employers are now recognizing the plethora of benefits that yoga and meditation provide, both for their employees health and happiness as well as for the productivity and bottom line of their businesses," says Jessica Matthews, ACE Exercise Physiologist and Experienced Registered Yoga Teacher (E-RYT), who leads a monthly yoga class as part of ACE's own wellness initiative. "There's no denying that when companies invest in the wellbeing of their employees everybody wins."
---
References:
"Yoga, Mindfulness Boost Bottom Line." Yoga Journal. N.p., 22 Mar. 2013. Web. 25 Mar. 2013.