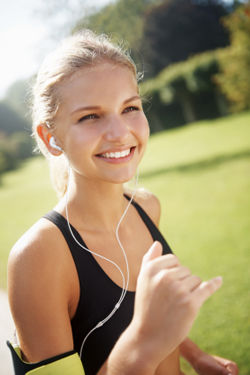 With the change in season comes the opportunity to change the way we think about getting and staying active. Check out these tips for making the most of your workouts this spring.
1. Walk Out the Front Door
One of the best ways to capitalize on the change in seasons is to get outside and enjoy the world as your playground. Think of your neighborhood or nearby park as a means to explore nature and get some fresh air, and burn some calories while you're at it. Outdoor activities such as walking, running, hiking and cycling can boost your workout intensity if you add short bursts of natural interval training to your workouts as you navigate various terrains, such as hills and stairs. For even more motivation, consider signing up for an outdoor event, such as a 5K walk/run in your local area, which will give you a goal for a fresh training approach.
2. Be a Team Player
If you're used to working out alone and you find your exercise sessions becoming a little stale, consider partnering up with a like-minded friend. Humans are social creatures and any activity that involves camaraderie increases a person's motivation to stick with it. If you're the kind of person who likes a little competition, try working out with someone who you perceive to be a little better than you. A recent study examined performance intensity and workout motivation and found that, compared to when they exercise alone, people tend to give more effort than they normally would when working out with someone who is slightly better than them. But don't worry if you can't find a workout buddy who is always a step ahead. Regardless of fitness level, exercising with others promotes social cohesion and accountability, giving you one more reason not to miss your next workout.
3. Tune In and Turn it Up
We all have our favorite tunes that make us feel happy and energized, but have you made a playlist of your most fantastic, motivating songs and then worked out to it? If not, you could be missing out on one of the fitness industry's most tried-and-true practices for increasing motivation and workout intensity. Group fitness classes have used music for exercise-programming purposes for decades. If you've ever walked by an indoor cycling, Body Pump®, or Zumba® class when participants are in the heat of their workouts, you know what I'm talking about. Music is the driving force that unites the group and provides the atmosphere for sweating it out. Researchers have found that when people play their favorite tunes during a workout, their feelings of exertion are reduced (even though are often working out more intensely) and their sense of being "in the zone" increases, compared to listening to no music at all. This means that putting on a playlist of favorite songs could boost performance and reduce perceived effort during training, allowing you to run faster, walk longer or lift heavier without even noticing the extra effort!
4. Try a New Piece of Equipment—For Free!
Group exercise programming has really come a long way since its beginnings in the 70s and 80s. Today, group fitness classes at your local gym or community recreation center range from dance-inspired and equipment-based classes, to boot-camp style workouts and mind-body options like yoga and Pilates. The point is that you can find a class that suits just about any type of workout you're into, including those focused on the hottest trends in the industry such as TRX®, ViPR®, kettlebells and foam rollers. Group classes are a practical and economical way to try something new to freshen up your exercise routine. If you are already a member of a facility that offers group fitness programming, you will likely be able to attend one of these types of classes for no additional charge. It will be well worth your time, if you ask me!
Stay tuned for part 2 of this series for more tips on how to spring clean your workout routine!