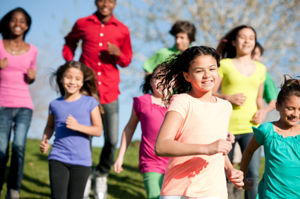 Earlier this month, the President's Council on Fitness, Sports & Nutrition released an update to the national physical-activity guidelines, which focused specifically on increasing physical activity in kids. The report highlights the alarmingly low levels of physical activity among America's youth (less than half of kids and fewer than 10 percent of teens get the recommended 60 minutes of moderate-to-vigorous activity per day) and offers up several strategies for communities, schools, families and kids to help move kids closer to the recommended levels of physical activity per day.
Here's a recap of the report's key recommendations:
Kids and teens should engage in 60 minutes or more of activity each day. Most of the activity should be moderate-to-vigorous intensity cardiovascular activity. Kids should include muscle-strengthening activities and bone-strengthening activities as part of their 60 minutes at least three days per week for each. Examples of these activities are included here: http://www.health.gov/paguidelines/midcourse/youth-fact-sheet.pdf
Activities should be fun, age-appropriate and varied. Here are several tips to help kids enjoy activity (http://www.acefitness.org/acefit/expert-insight-article/3/3117/getting-children-to-enjoy-physical-activity/).
Because the average kid spends about six to seven hours per day in school, schools offer the best opportunity to ensure that kids get at least 30 minutes of physical activity. Schools should take a multi-faceted approach to increasing activity by including things like physical activity breaks, "enhanced" PE (that is, the kids actually break a sweat), activity sessions before and after school, and walking or riding a bike to and from school whenever possible.
Kids enrolled in preschool programs and daycare centers should receive ample opportunities to be active. This includes outdoor play time, portable play equipment (balls, tricycles, etc.), and access to play space and playgrounds. Staff should also receive training in the delivery of structured activity such as physical activity breaks and how to integrate activity into lesson plans.
Community leaders should aim to increase the walkability and aesthetic value of the communities by planting more trees and vegetation nearby sidewalks, increasing the number of parks and recreational offerings, developing bike trails, increasing residential density, and decreasing traffic speed and volume so that people can use methods other than cars to get around.
The report also makes clear that research is evolving and we have a lot more work to do before we can say with research-backed certainty what works and what doesn't to help kids be more active, especially at home.
In the meantime, here are a few take-home tips for parents:
Create an active environment at home. Build physical activity into your kids' daily schedules and lead by example.
Encourage your kids to spend as much time outdoors as possible (don't forget the sunscreen!). Simply being outdoors is associated with both increased levels of moderate-to-vigorous activity across all age groups and a more positive feeling about exercise.
Consider getting a dog to help get your teenager moving. The report highlights research showing teens with dogs are more active, presumably due to walking and playing with their dogs.
Consider engaging with your community to advocate for increased activity opportunities in your local community, schools and childcare centers. There are many ways to do this, with varying amounts of time commitment. One particularly powerful approach is to get involved in your local school wellness committee. However, it can also be as simple as helping your child's preschool to add physical activity breaks or donating inexpensive equipment to help promote activity such as balls and jump ropes.
For more information, check out the full report and ACE's position statement on physical activity in schools.