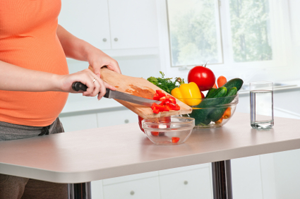 When we got the news, we were ecstatic. Getting to 40 weeks seemed so far away, but we knew our son would be here soon! The first and second trimester flew by quickly and we started to realize we had yet to prepare our home for the new baby. We moved out of our small apartment into a larger home, and put together the dresser and crib for the nursery. We stocked up on diapers and wipes, and had our baby shower with friends and family. We were ready to go!
But then, with a couple of weeks to go, I felt that the house wasn't quite ready yet. I had to clean the entire house again, move around the furniture and get rid of old things we no longer needed. Many future moms go through this "nesting" phenomenon leading up to the birth of their child. It is nature's way of preparing parents to welcome the newest member of the family into the home. Women experience the nesting instinct differently: Some moms-to-be feel the need to rearrange their closet, while others have to clean every inch of their home multiple times a week.
My nesting instinct largely involved the kitchen. Keeping up with cooking the last few weeks of my pregnancy has been difficult and it wasn't going to get any easier with the new baby at home. Because it's important to me to keep eating healthy after our son arrives, I knew I had to get ready early! I cleaned out my refrigerator and pantry of any old food and started stocking it with ingredients that would make cooking much easier once we got home from the hospital. Although it took some time to get everything together, my kitchen is stocked and ready to go!
If you're feeling that nesting instinct, too, here are some suggestions for items to keep in your kitchen to make it easier once your baby arrives:
Frozen vegetables: Frozen vegetables are definitely handy when it comes to quick meals. They are often frozen shortly after they have been picked and so they maintain nearly all the nutrition. And these days there is o much more to choose from than peas and carrots—you can often find frozen Brussels sprouts and kale, too. Adding them to a quick stir-fry or favorite marinara sauce is a simple way to keep eating your daily serving of vegetables.
Canned beans: Whether you like black beans, cannellini beans or garbanzos, having these handy in your pantry is an easy way to add some protein to your diet. Make a quick hummus dip or a simple black bean soup. Look for the low-sodium variety or simply rinse the beans with water before using them to control the amount of salt in your diet (which also helps that swelling in your feet).
Cooked whole grains: As I cleaned out my pantry, I found half-opened bags of dried lentils, farro, barley and brown rice. I cooked each of these grains, let them cool, packed them into plastic bags and put them away in the freezer. These grains often take a while to cook, but now that I have them ready to go in the freezer, incorporating them into meals is as easy as defrosting them in the microwave.
Here's a quick and healthy recipe to incorporate the items above (or make it ahead of time and freeze it until after the baby comes):
Baked Barley* Casserole with Spinach and Chicken Sausage
½ onion, chopped
2 links of chicken sausage, chopped into small pieces
3 cloves of garlic, chopped
1 bag of frozen spinach, defrosted with excess water squeezed out
2 cups of cooked barley
1 can of chopped tomatoes (with juice)
1 cup of chicken broth (or water)
½ cup of shredded mozzarella
Preheat the oven to 375 degrees. While the oven is heating, place a pan over medium heat. Drizzle approximately 2 tablespoons of olive oil into the pan. Place the onion, garlic and chicken sausage into the pan. Stir occasionally until the onions are lightly browned. Add the frozen spinach and tomatoes to the pan and cook for 1 minute. Finally, add the cooked barley and broth to the pan and mix well. Pour the mixture into an 8x8 baking pan and place in the oven for 30 minutes. Remove from the oven and sprinkle the cheese over the top. Place back in the oven for another 10 minutes or until the cheese is melted.
*Don't have barley on hand? Use whole-wheat pasta or brown rice instead.