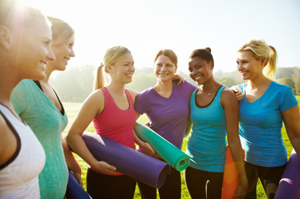 Tired of the constant weight fluctuations and inability to shed those last 5 pounds thanks to your social calendar and work obligations? Like many people, your commitment to maintaining a strong support system and working your way up the ladder at work may be taking a toll on your waistline. But here's some good news: As awareness of the importance of fitness to one's overall well-being continues to grow, many people are ditching the cliché work and social events that are typically centered around food and drinks in exchange for a healthier, more rewarding alternative—fitness parties.
Gyms across the United States are now offering fitness parties as a way to celebrate life achievements and milestones, such as bachelorette parties, birthday parties, college reunions and even divorce parties. Pole-dancing parties are among the most popular, with twenty- and thirty-something women most likely to give this increasingly popular trend a try.
"The class is a reason for friends to get together and shed inhibitions for an hour," says Donna Cyrus, senior vice president of programming at Crunch.
Professionals are jumping on board this new trend, as well; instead of attending a typical dinner or cocktail hour, they're attending fitness classes together. According to fitness and yoga instructor Magen Banwart, many business conferences are beginning to include yoga classes as a way to help attendees with stress management.
"It's refreshing to see that so many people are opting to ditch taking in empty calories sipping on drinks with friends," says ACE fitness expert Jessica Matthews, "and instead are choosing to celebrate special occasions in more active ways by seeking out classes that enable them to focus on their fitness, while inspiring friends and loved ones to do the same.
"There aren't many places where you can go to burn calories, improve your health and fitness, and let your inhibitions go all while having fun with your girlfriends, but you can in a pole fitness class. It's easy to see why this class format has become such a popular option for bachelorette parties. For many, breaking a sweat learning some sultry moves and boosting one's self-confidence in the company of your closest friends is the perfect way to embrace an active lifestyle, while also celebrating some of life's biggest milestones."
---
References:
Internicola, Dorene. "Let Them Eat Cake Later: Americans Hosting Fitness Parties."Reuters. Thomson Reuters, 11 Mar. 2013. Web. 13 Mar. 2013.