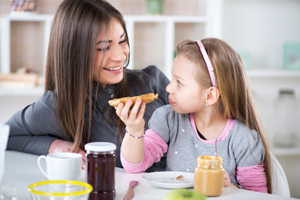 Getting your kids to eat breakfast can be a struggle. Between waking them up and making sure they get to school on time, mornings are a busy time in most households.
Most people agree that breakfast is the most important meal of the day. However, many Americans routinely skip this meal! Study after study has shown that when children eat breakfast, they are more alert at school and perform better than those who do not. Similarly, adults are better at concentrating and problem-solving after having breakfast.
While eating breakfast is generally important, what we eat for breakfast should be considered, too. Avoid super sugar-sweetened cereals, which cause a huge spike—and then quick drop—in blood sugar. This drop can affect your mood; in kids, studies show that it affects their concentration and memory. Carbohydrates are important to fuel the brain so offer whole-grain options that are high in fiber and won't cause the huge increase in blood sugar. Also, protein at breakfast, such as hard-boiled eggs, low-fat cheese or peanut butter, can keep your kids full and satisfied.
Try these super-quick and healthy options your kids can grab and eat on the go:
Granola bar and a banana – look for granola bars that are low in sugar and high in protein and fiber
Low-fat yogurt with homemade trail mix – mix together your favorite nuts and dried fruit ahead of time for a crunchy topping
Low-fat string cheese with whole-grain crackers and an apple
Hard-boiled egg sliced in a whole-grain English muffin
When you have a little more time, try these fast and nutritious breakfast recipes:
Peanut Butter Banana Waffle Sandwiches
1 Whole-grain/whole-wheat frozen waffle
2 tablespoons of peanut butter (or other nut butter)
½ banana, sliced
Toast frozen waffle according to package instructions. Spread peanut butter for the waffle and cut waffle in half. Arrange banana slices on one waffle half and top with other waffle half.
Chicken Sausage Frittata Burritos
Whole-grain/whole-wheat tortillas
6 eggs
1 cup of frozen spinach (defrosted with excess water squeezed out)
1 cup of low-fat chicken sausage
½ cup of low-fat shredded cheese
Olive oil
Preheat oven to 350 degrees. Crack the eggs into a medium mixing bowl and beat gently. Add in defrosted spinach, meat and cheese and mix well.
Grease a 8" x 8" baking dish with 1 tablespoon of olive oil. Pour egg mixture into the baking dish. Bake in oven for approximately 30 minutes and remove.
Once cool, slice the frittata into approximately six rectangles. Take one tortilla and place the frittata slice on one half of the tortilla. Fold three sides of the tortilla toward the frittata slice and then roll over, forming a burrito. Repeat with remaining five pieces.
Burritos can be wrapped in plastic wrap and kept in the refrigerator or freezer. To serve, heat in microwave for one minute and go!