Basketball is an American classic watched, played and loved by people all around the country. The sport also inspires one of the best times of year for college fans – March Madness. Use this exciting time as motivation to explore new basketball-inspired moves that challenge your entire body.
Basketball Push-ups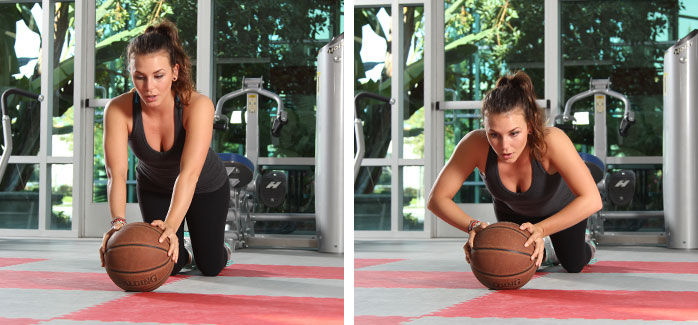 A strong upper body is important in just about every sport, including basketball. By using a basketball as an unstable surface, you can kick up the intensity of the traditional push-up and give your core a whole new challenge.
Step one: Begin in a kneeling position and place both palms on a basketball.
Step two: Slowly shift your weight forward until your shoulders are positioned over your hands and press up into a plank position with toes on the ground, or opt to keep your knees on the ground with the feet lifted.
Step three: Keeping your core engaged and head aligned with your spine, and slowly lower your chest toward the basketball, keeping elbows close to the sides of your body or flaring outward slightly.
Step four: Pressing upward through your arms, return to your starting position.
The Triple Threat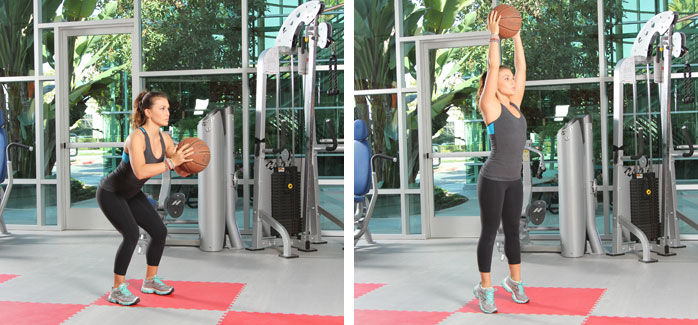 Take a look at any basketball player and you'll see that the muscles of their legs and arms are extremely well conditioned to meet the demands of the sport. Performing this combination of a squat, overhead press and calf raise will help you strengthen everything from your ankles to your shoulders.
Step one: Stand with your feet slightly wider than hip-width distance apart with your core engaged and knees slightly bent, holding the basketball in your hands close to your chest.
Step two: Shifting the weight into your heels, push your hips back and bend your knees as you squat, lowering down until your thighs are parallel or almost parallel to the floor.
Step three: Slowly press through your heels as you straighten your legs and rise up to a standing position, pressing the basketball above your head as you straighten your arms.
Step four: Complete the move by rising up onto your toes before lowering back down to your starting position.
Classic Cone Dribbling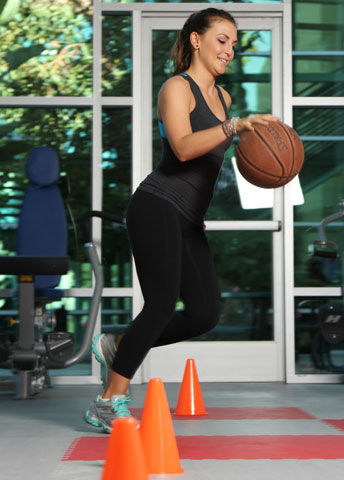 Speed, endurance, agility and coordination are essential skills, both on and off the court. Cone dribbling is a classic basketball drill that can help give you a new reason to take your workouts outdoors.
Step one: In a gymnasium, driveway, parking lot or basketball court, set up five cones in a straight line, spaced about 5 feet apart from each other.
Step two: Starting at the first cone, beginning dribbling the ball with your right hand as you run in between the cones until you reach the end.
Step three: Turn around and weave back through the cones, except this time use your left hand to dribble the basketball.
Side Steps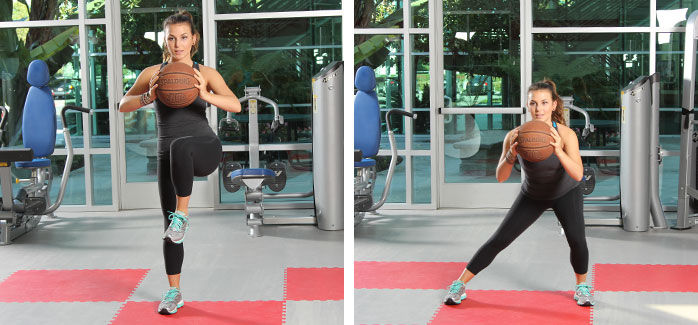 Just as speed is needed for basketball, the ability to quickly stop and change direction is also important.
Step one: Stand with your feet hip-width apart holding the basketball close to your chest, as if you were about to throw a chest pass.
Step two: Without lifting your left foot, take a lateral step out to your right and stop, keeping the ankle, knee, hip and shoulder in alignment.
Step three: Return back to your starting position and repeat this movement with the left foot, stepping out to the left side as you keep the right foot planted.
Torso Rotation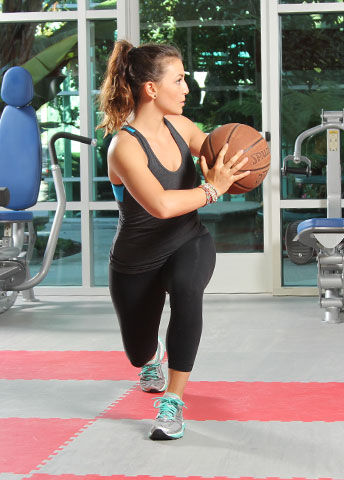 In addition to looking cool on the court, no-look, cross court, and behind-the-back passes all involve some sort of rotation. Practice this exercise to increase the strength and range of motion of your torso.
Step one: Stand with your feet hip-width distance apart and hold the basketball in front of you at about chest height while keeping the core engaged.
Step two: Lunge forward with your right foot, lowering your hips down toward the floor while at the same time rotating your upper body to the right.
Step three: Rotate back to center and firmly push off with the front leg to return to your starting position and repeat on the opposite side, leading with the left leg as you twist left.
Change up your fitness routine and train like an athlete with these additional sport-inspired workouts!