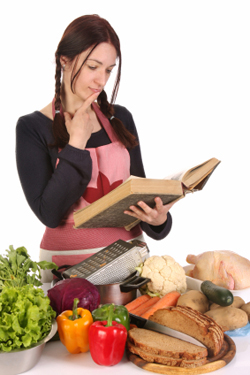 Mealtimes should be an enjoyable family experience, but too often they become a dreaded food fight, with parents pushing healthy foods and kids blatantly refusing them. Studies show that the most important predictor of whether or not a child will eat a food is if it tastes good (Domel et al., 1996). But with multiple schedules to balance, jobs to work and homework to do, mealtimes can be a chore. So much so, in fact, a parent will likely declare it a success when an edible assortment of food makes it to the dinner table, even if the meal isn't the healthiest or tastiest.
The good news is that a healthy, balanced and inexpensive meal that your kids will love is within reach, simply by applying just a few basic cooking essentials.
1. Prepare
The first step to being a good cook is to have the right ingredients on hand. Start by cleaning out your pantry and refrigerator and starting fresh. This ensures that you have fresh ingredients and food on hand that will actually be eaten and that you're well aware of the arsenal of ingredients you have at your fingertips
2. Follow a Recipe
As you're getting started, rely on high-quality cookbooks and recipes. At first, choose basic recipes with only a few ingredients. Once you feel comfortable, you can start to get creative with the recipes. Try substituting ingredients and experimenting with spices and herbs. For example, instead of ground beef for taco night, try baking mahi-mahi with cumin and lemon for a lighter, healthier and more adventurous version. Or try using thinly sliced eggplant and zucchini as substitutes for pasta in your favorite lasagna recipe.
3. Check Your Timing
Timing is everything when it comes to making healthy foods like vegetables taste good. The temperature, texture and overall taste of a food depend, in large part, on timing. Make sure to serve hot foods hot and cold foods cold. Steam vegetables to the point where they still hold a bit of crunch and aren't soggy.
Check out the recipes below to get started. The recipes are set up so that you can save money by purchasing just a few standard, low-cost and high-quality ingredients and by making small modifications that will create a whole new meal. Unless otherwise indicated, the recipe quantities are for a family of four.
Dinners
Using just three main ingredients—chicken breasts, frozen vegetables and whole-wheat pasta—will give you endless mealtime possibilities!

Roasted Chicken Breast
Preheat oven to 350 degrees. Place chicken breasts on a baking sheet. Drizzle with olive oil, salt and pepper. Bake for 30 to 45 minutes, or until thoroughly cooked.

Baked Cheesy Pasta
1 16-ounce package whole-wheat pasta
1 jar marinara sauce
2 cups of assorted fresh or frozen vegetables
3 roasted chicken breasts
1 cup shredded mozzarella

Preheat oven to 375 degrees. Prepare pasta according to instructions on box. Drain pasta after cooking and return to pot. Cut chicken breasts into small, bite-size pieces and place into pot with pasta. Pour tomato sauce into pot and then vegetables. Mix until well incorporated. Pour into a 9x13 baking pan and sprinkle top with mozzarella. Bake in oven for 40 minutes.

Hearty Minestrone Soup
1 16-ounce package whole-wheat pasta, cooked
2 cups of assorted fresh or frozen vegetables
2 roasted chicken breasts
1 onion, chopped into small pieces
1 15-ounce can kidney beans, drained
1 15-ounce can chopped tomatoes
5-6 cups water

Heat a large pot over medium heat with 2 tablespoons of olive oil. Place diced onions into pot and cook until softened and lightly brown. While onions are cooking, use your fingers or two forks to shred chicken breast into small pieces. Once onions have softened, add chicken breast and frozen vegetables to the pot. Add 5 to 6 cups of water and the chopped tomatoes to the pot. Turn the heat to low and let simmer. After 20 minutes, add the cooked pasta to the pot and cook for another 10 minutes. Add salt and pepper to taste.

Chicken Teriyaki With Vegetables
1 cup soy sauce
3 tablespoons of sugar
2 tablespoons of vinegar (any variety, but not balsamic)
2 garlic cloves, chopped
3 roasted chicken breasts, cut into 1/8-inch slices
3 cups of assorted fresh or frozen vegetables
1 onion, sliced
1 package whole-wheat spaghetti, cooked
Heat a pan over medium heat with 2 tablespoons of olive oil. If using frozen vegetables, defrost and remove excess water. Place onions in the pan and cook until light brown. Add vegetables into pan and cook for 7 to 8 minutes. Place chicken into pan and stir. Remove chicken and vegetables and return pan to stove. Pour soy sauce, sugar, garlic and vinegar into pan over low heat and simmer for 10 minutes, until slightly thickened.
Divide pasta among plates and top with chicken and vegetables. Pour the teriyaki sauce over the top and serve.
---
References
American Dietetic Association. (2006). What's a mom to do? Healthy eating tips for families. Nutrition Fact Sheet. Chicago, Ill.
Domel, S.B. et al. (1996). Psychosocial predictors of fruit and vegetable consumption among elementary school children. Health Education Research, 11, 299-308.