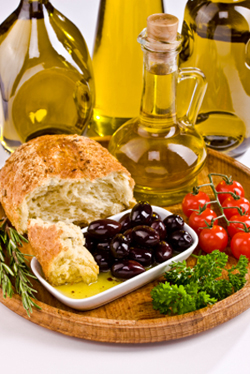 When it comes to heart health, those eating a diet based on the traditional foods of the Mediterranean region may have the upper hand. The Mediterranean diet, which primarily includes olive oil, whole grains, fish and seafood, legumes and nuts, and vegetables and fruit, has been in the spotlight thanks to a study published in the The New England Journal of Medicine, which found that it reduces the risk of heart attack and stroke.
The Scoop
Using data collected from the project PREDIMED, a multicenter trial that took place from 2003 through 2011, researchers examined the effects of the Mediterranean diet on the prevention of cardiovascular disease. Nearly 7,500 participants were divided into three dietary groups: a Mediterranean diet supplemented with extra-virgin olive oil, a Mediterranean diet supplemented with nuts, and a low-fat diet. All three groups attended dietary training sessions, were visited by a dietician, and were given shopping lists, menus and recipes that followed their respective diets. Additionally, the two Mediterranean groups were given either one liter of extra-virgin olive oil per week, or 30 grams of nuts per day. At the end of the five-year study period, it was found that the participants who followed the two Mediterranean diets showed a substantial reduction in their risk of cardiovascular death, myocardial infarction and stroke, proving that a high-vegetable fat diet is more "heart healthy" than a low-fat diet.
What Does ACE Think?
"Studies come and go. However, the heart benefits from the Mediterranean diet have been documented for many years," says Ruth Frechman, a registered dietitian and ACE-certified Personal Trainer. "I was not very surprised with the results of this study. One control group consumed four tablespoons of olive oil a day. Based on 2,000 calories, that's almost 500 calories, which is 25% from healthy fat. If you follow the USDA guidelines, 20 to 35% of the diet can come from fat. Another control group consumed nuts for fat. A higher percentage of fat can be consumed in the diet, if it's healthy fat. These two diet plans meet our MyPlate guidelines."
What Does This Mean for Me?
"The study proved again that food is a key factor in health and disease and is a good reminder to make healthy choices," continues Frechman. "Can you make improvements to your own diet? Are you eating fatty fish like salmon or tuna two times a week? Are you eating enough fruits and vegetables? Are you consuming moderate amounts of alcohol? Do you remember to include nuts, seeds, beans, and healthy oils in your diet?"
Frechman offers some easy substitutions that will help transform a typical American diet into a more Mediterranean-like diet. For example, "If you use butter, consider using a healthier fat like olive oil. Butter contains almost 70% saturated fat, while olive oil contains 75% of healthy monounsaturated fat. Extra virgin olive oil has a low smoke point, so use it for salads, sauces and marinades. Classic olive oil can be used for roasting and sautéing. Instead of using a quarter-cup of butter or margarine, substitute it with three tablespoons of olive oil instead."
Finally, "Remember, there are no single, magic foods," says Frechman. "It may be the compounds in whole foods working together, which provide health benefits. Of course, I would not rely on diet alone. I believe that daily physical activity is just as important as a healthy diet."