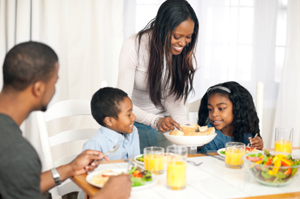 When it comes to the frightening increase in the number of overweight and obese children, an unhealthy diet, sedentary lifestyle and genetics are most often to blame. However, according to a recent study, a mother's eating habits and behavior may also influence her preschool-age child's risk of becoming obese.
Researchers from Washington State University surveyed 222 low-income African-American and Latino Head Start preschoolers and caregivers in a U.S. Department of Agriculture/Agricultural Research Service Children's Nutrition Research Center study. After analyzing the results, they found that mothers who eat even when they're no longer hungry and show a lot of control when feeding their children tend to produce picky eaters. Additionally, mothers who are emotional eaters or have no self-control when it comes to food produce children who have a strong desire to eat.
"Like mother, like child," Morrison said. "This is especially true when kids are so young their environment is primarily based on what their parents are doing."
This study was especially interesting because of its focus on African-Americans and Latinos, who currently represent the highest obesity rates among preschoolers (21 percent of African-Americans and 22 percent of Latinos). It shows that mothers have a large impact on eating behaviors, and can actually reduce their children's risk for obesity if they provide positive mealtime experiences, such as serving smaller portions and controlling their own temptations for food in front of their children.
"Parents should practice what is often referred to as a 'division of responsibility'—the parents choose what foods are offered and when, and kids get to decide what to eat of the food that is offered and how much," says ACE Senior Health Strategist Dr. Natalie Digate Muth. "This gives parents ultimate control over the types of foods that the kids eat, but lets the kids decide how much to eat and what to try. This is 'authoritative parenting' in action. This is in contrast to 'authoritarian parenting,' in which the parent exerts all of the control. As this study shows, this approach backfires, leading to kids who eat less healthfully and are less likely to enjoy healthy foods like fruits and vegetables.
"A large body of research has played out that we adults are very bad at 'guesstimating' how much kids should eat. We often give them portion sizes that are much too large and then we make them 'clean their plates.' This teaches them to eat for reasons other than hunger and fullness. In fact, studies show that kids as young as age three have lost the ability to use their own feelings of hunger and fullness and instead eat for a variety of other reasons such as boredom, sadness and just because the food is there (just like their adult counterparts)."