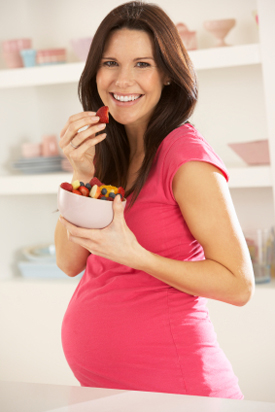 We've all heard it before. "You can eat whatever you want!" "Don't worry, you're eating for two now." "You must crave pickles and ice cream." "You can eat French fries everyday!" When I shared the news of my pregnancy, everyone seemed to give me a reason for why it was okay to eat anything I wanted. As soon as the morning sickness passed, it was tempting to give in to such indulgences. After all, I now have to provide for another rapidly growing human being, totally dependent on me for adequate nutrition and calories.
It is true that gaining weight is important during pregnancy to provide adequate nutrients to the baby. But, being pregnant doesn't give us permission to eat fast food with dessert for every meal! There is a healthy amount and way of gaining weight during pregnancy. According to the guidelines from the Institute of Medicine (IOM), appropriate weight gain during pregnancy should be based on your calculated pre-pregnancy body mass index. Women that are underweight at the start of pregnancy should gain 28 to 40 pounds for the entire pregnancy, while a 25- to 35-pound weight gain is appropriate for those who are normal weight. Women that are considered overweight should gain 15 to 25 pounds and obese women should gain between 11 and 20 pounds.
So, how many extra calories does a woman need during pregnancy? Despite the myth that you should eat double since you are eating for two, you don't need to double the daily calories for your baby to develop properly. In fact, the IOM recommends that during a woman's first trimester, there is no need to increase food intake at all! Rather, expecting moms should continue to eat healthy and well-balanced meals with a focus on whole grains, lean protein, fruits and vegetables. During the second and third trimesters, it is generally recommended to increase daily intake by 350 and 450 calories, respectively. Of course, it is important to go over your diet and individual recommendations with your physician, especially if you have certain health conditions such as diabetes.
Being physically active is an essential part of a healthy lifestyle, even while pregnant—just be sure to check in with your healthcare provider before embarking on any new physical activity while you are pregnant. If your physician gives you no limitations to physical activity, participating in moderate-intensity activity throughout pregnancy will not only help stave off excess weight gain, but also help you to stay fit and feel great; it may even help to decrease complications during your pregnancy. I have continued to do my typical exercise activities, such as yoga and using the elliptical or stationary bike, but realized this was not the time to pick up something new like running a marathon!
As I progressed further into my pregnancy, so did my appetite! Now in my third trimester, I have snacks stashed away in my purse, desk and car so I'm not tempted to grab something unhealthy, like a bag of chips from the vending machine. Avoiding prepackaged snacks, which are often high in sodium, is particularly important during your last trimester when water retention is more common and can lead to uncomfortable swelling. I try to pack a variety of snacks to suit my mood—dried fruit and yogurt for those times I'm craving sweets, or nuts and low-fat cheese when I need something crunchy and savory. To keep hydrated, I have a water bottle with me at all times, which helps me avoid drinking empty calories, such as juice or other sweetened beverages. Even so, I do allow myself a scoop of ice cream or a side of fries every now and then. While you shouldn't throw out your healthy eating habits entirely, it is okay to allow yourself to give in to the occasional indulgence!
Here are two easy-to-make snacks to keep your healthy eating habits on track during your pregnancy:
---
Crunchy Garlicky Edamame
Edamame, also known as soybeans, are high in protein and make a great snack. These crispy edamame will satisfy your craving for something savory, while also being very filling and good for you, too. Substitute the garlic powder with other combinations, such as cumin and cayenne pepper for a spicy treat.
3 cups of shelled edamame, defrosted and drained (found in the frozen section in most supermarkets)
2 tablespoons of olive oil
1 teaspoon of salt
2 teaspoons of garlic powder
1 teaspoon of black pepper
Preheat oven to 400 degrees. Spread the shelled edamame over a baking sheet. Drizzle olive oil over the edamame and then sprinkle the salt, garlic powder and black pepper. Mix until combined and re-spread the edamame over the baking sheet so that it is a single layer. Bake in the oven for 30 to 35 minutes, until edamame are crispy and brown.
Roasted Cinnamon Brown Sugar Bananas With Greek Yogurt
This is a simple recipe that will satisfy that sweet tooth, but not overindulge with a heavy and high-calorie dessert. Ripe bananas become even sweeter as they caramelize in the oven with cinnamon and a sprinkle of brown sugar. Make extra as this is also a great topping for oatmeal for a delicious breakfast!
2 ripe bananas
Ground cinnamon
Brown sugar
Low-fat Greek yogurt
Optional toppings: Chopped pecans, chocolate chips, toasted coconut shavings
Preheat oven to 350 degrees. Slice the banana lengthwise in half. Sprinkle each side of the banana with cinnamon and brown sugar. Bake in the oven for 20 minutes or until browned. Serve with a dollop of low-fat Greek yogurt.