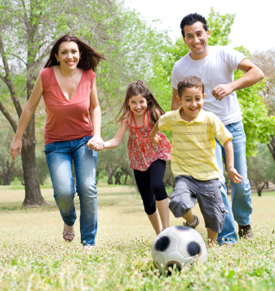 Many parents ask me what they can do to make their children more physically active. As we know, childhood obesity is a growing problem around the world. The Centers for Disease Control and Prevention (CDC) reports that in the United States, approximately 17 percent (or 12.5 million) of children and adolescents aged 2-19 years are obese. These numbers are scary, as many experts are concerned that this could be the first generation of children whose life expectancy may be shorter than their parents.
The continued popularity of technology is also a growing concern, as children are now so absorbed in electronics that it has become their number-one form of activity. Many parents are worried that their children would prefer to be on the computer, iPad or cell phone, or playing video games than spend time outside being physically active. So what can a parent do? Here are 10 steps to help get your kids back on the path to a healthier lifestyle through more physical activity:
Encourage Play – Too many times, kids have a 'free hand' as to what they do in their spare time. If the decision is left up to them, they will often choose a sedentary activity that involves technology. Encourage them to go outside to play in a properly supervised, safe environment.
Be A Role Model – I work with hundreds of kids on daily basis and always discuss health topics with them. When children are asked who their number-one health role model is, the answer is usually "my parents." So, if a parent leads a healthy lifestyle by engaging in physical activity and proper nutrition, a child will follow his or her parent's lead.
Get Friends Involved – Encourage your children to play outside or on teams with other children—not only will they be physically active, but socially active as well. Kids love having something to talk about with friends, and if the common bond is activity, everyone wins.
High Success – Kids love winning, but really enjoy doing well at something. Find an activity they not only enjoy, but can succeed in doing, which will naturally increase their interest in the activity.
Age/Skill Appropriate – Make sure to find an activity that is age- and skill-appropriate for your child. Some activities may be too hard for some children. If a child participates in an activity where he or she is less likely to be successful, interest in the activity will disappear quickly.
Make It Fun – If a physical activity is more enjoyable, there is a better chance a child will want to continue participation. If they feel pressure, fear of injury or fear of not pleasing others, they could get turned off quite easily.
Individualized Competition – Teach children not to be concerned about how well others perform in physical activity; rather, have them compete with themselves by making the effort to improve their own personal best at an activity.
Social Benefits – Teach your children how physical activity can improve their social life.
Physical Benefits – Teach your children how physical activity can improve their overall health.
Stay Positive – Your child is not training for the Olympics—he or she just needs to be more physically active, with the hope of creating a positive health habit that will last a lifetime. If they do not do well at something, lose interest or even take a day off here and there, remain positive. Children are more prone to continue with an activity if they don't worry or feel threatened.
Of course, each child is different, and requires his or her own 'recipe' for success. Learn to communicate with your kids in a positive manner, and they will reap the rewards of a healthier lifestyle.