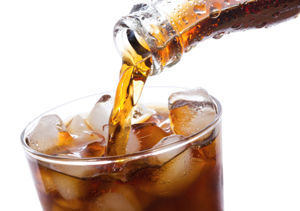 Between the controversial soda ban in New York City and the constant stream of news related to sugary drinks, we are all becoming increasingly aware of the negative effects that consuming these beverages can have on our health. Not only is there plenty of research linking sugar consumption to health problems such as heart disease, type 2 diabetes, certain cancers and obesity, according to a new study, soda may cause even more problems among those who are predisposed to obesity, heightening the effects of their obesity genes.
To understand whether the intake of sweetened beverages interacts with an individual's genetic predisposition toward obesity, researchers analyzed data from 6,934 women participating in the Nurses' Health Study (NHS), 4,423 men from the Health Professionals Follow-up Study (HPFS), and 21,740 women from the Women's Genome Health Study that had 32 genes related to obesity.
Among the NHS and HPFS participants, the genetic association with BMI was stronger in those who consumed a higher amount of sugary drinks than those who consumed less. Therefore, researchers suggested that the genetic association with obesity appeared to be more pronounced with greater intake of sugar-sweetened beverages.
The risk of becoming obese as a result of carrying a high dose of obesity genes was more than twice as great in the group with the highest intake of sugary beverages as it was for the lowest intake group, says lead author Dr. Lu Qi, assistant professor in the nutrition department at the Harvard School of Public Health. This means that regular consumption of sugary beverages magnified the genetic risk of becoming too heavy, he says.
And, according to a report in USA today, the study also suggests that consuming a high amount of sugary beverages, along with other unhealthy diet choices, can affect how the obesity genes are expressed. While it's true that genetic makeup influences obesity risk, our environment may also trigger these genetic effects.
Whether or not you are predisposed to obesity, there's no doubt that making poor choices related to your health and not monitoring the food and drinks you consume can have long-term negative effects on your health. That said, the next time you're craving something sweet, keep in mind ACE's recommendation to incorporate a sensible diet and regular physical exercise into your routine so that you may live your most fit life.