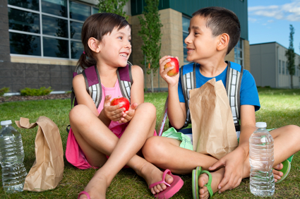 The school lunch revolution is in full effect at schools across the country. The meals are healthier, more nutrient-dense and low in added sugars, saturated fats and other food items known to harm children's health. While this update to the school lunch program has been important, the ready availability of unhealthy vending and snack foods has made lasting change to children's nutrition status difficult to achieve. After all, if given a choice, most children will choose nutrient-poor sweet and salty foods over more nutrient-dense vegetables and fruits. This is especially the case for children used to eating a low-quality diet who have not yet developed a love for fruits, vegetables, whole grains and other healthy food items (see ACE's recent position statement for more information on the school lunch changes and challenges).
In alignment with the Healthy & Hunger-Free Kids Act of 2010, which was initiated to improve school nutrition, the United States Department of Agriculture announced the plan for "competitive foods' revolution coming this spring. With these regulations, schools that offer vending machines, snacks and a-la-carte items will be required to provide healthy, wholesome items. The junk-food counterparts will be off limits.
Specifically, the proposed regulations* will require that:
Any food sold in schools must be a fruit, vegetable, dairy product, protein food, a "whole grain-rich" grain product (50 percent or more whole grains or have whole grain as the first ingredient), or a combination food containing at least ¼ cup of fruit or vegetable OR contain at least 10 percent of the daily value of calcium, potassium, vitamin D or fiber.
Foods contain no more than 200 calories per portion for snack items and 350 calories for entrée items.
No more than 35 percent of total calories come from fat and fewer than 10 percent of calories from saturated fat (with some exceptions) and contain no trans fat. Exceptions are made for reduced-fat cheese, nuts without other ingredients and seafood without added fat.
Less than 200 mg of sodium per package in snack items and less than 480 mg of sodium for entrée items sold in a la carte lines.
No more than 35 percent of calories come from sugars or 35 percent of weight from total sugars, with exceptions for dried fruit, nuts and yogurt.
In elementary schools, beverages are caffeine-free, served in 8-ounce portions and may include low-fat plain milk, non-fat plain or flavored milk, "nutritionally equivalent" milk alternatives, and 100% fruit and vegetable juice. Water is allowed in unlimited amounts.
In middle schools, as above, served in 12-ounce portions
In high schools, as above, served in up to 20-ounce servings, plus flavored and/or carbonated water and other "calorie-free" (less than 5kcal/serving) beverages, but not in meal-service area during meal periods. Some other beverages in less than 12-ounce sizes (40 calories or less in 8-ounce serving or 60 calories or less in 12-ounce serving) may be allowed, but not in meal service areas during meal periods. Beverages may contain caffeine.
The proposed regulations allow exclusions for:
Fresh, frozen, and canned fruits and vegetables with no added ingredients such that nutrition standards do not apply
"Important traditions" such as packed bagged lunches from home without restriction on food content, snacks for birthday parties and other celebrations (unless restricted based on local school district policies), occasional fundraisers and bake sales
Food sold during non-school hours, weekends and off-campus such that nutrition standards do not apply
*the full text of the proposed regulations is available at www.regulations.gov
This will be the first update of snack food and beverage rules in schools since 1979. The timing is right as more than 2.5 million children and adolescents are overweight or obese, a tripling of the rates from just a generation ago (Ogden et al., 2012). Policies that restrict sales of unhealthy snacks and beverages in schools have been shown to improve kids' nutrition, reduce weight gain and increase food-service revenues. For example, when California cracked down on junk foods in high schools, students consumed 158 fewer calories per day than their counterparts in other states that allowed unhealthy options (Taber et al., 2012). Just a 64-calorie decrease in intake could reduce childhood obesity rates to the goals set by Healthy People 2020 (Wang et al., 2012). Schools that have strengthened policies for vending and a-la-cart food items in California, Connecticut, Texas, and West Virginia have reported increased revenue or no change in revenue after implementing the stronger standards.
It adds up that junk-food snacks at school play a major role in the poor nutritional status of U.S. kids. After all, kids eat 35 to 50 percent of their daily calories at school. On the whole, nearly 400 billion of those calories come from junk food in school each year. That translates into a collective 450 million pounds of fat in America's children.
The public comment period for these new regulations is now open. Stakeholders have 60 days to weigh in on the proposed rules. Expect widespread discontent from those companies that currently supply the vending-machine and snack offerings, and praise from school-nutrition advocates. Now is the chance to weigh in. Visit www.regulations.gov to leave a public comment sharing your views of how schools can best meet the nutritional needs of our kids. (Note: The report is supposed to be loaded on the Federal Register this week. Until then, it is available at http://www.fns.usda.gov/cga/020113-snacks.pdf. Once it is loaded, public comment will open.)
Agriculture Secretary Tom Vilsack may have said it best in a news release about the proposed rule: "Parents and teachers work hard to instill healthy eating habits in our kids, and these efforts should be supported when kids walk through the schoolhouse door." Increasingly, parents have a stronger ally from schools in the pursuit to raise a generation of healthier, more active kids.
---
References and Resources
Robert Wood Johnson Foundation (2013). How can healthier school snacks and beverages improve student health and help school budgets? Health Policy Snapshot: Childhood Obesity Issue Brief.
Institute of Medicine (2007) Nutrition standards for foods in schools: Leading the way toward healthier youth.
Federal Register and www.regulations.gov
Ogden, C.L. et al. (2012). Prevalence of obesity and trends in body mass index among US children and adolescents, 1999-2010. Journal of the American Medical Association, 307, 5, 483-490.
Taber, D.R., Chriqui, J.F. and Chaloupka, F.J. (2012). Differences in nutrient intake associated with state laws regarding fat, sugar, and caloric content of competitive foods. Archives of Pediatric and Adolescent Medicine, 166, 5, 452-458.
Wang, Y.C., Orlean, C.T. and Gortmaker, S.L. (2012). Reaching the Healthy People goals for reducing childhood obesity: closing the energy gap. American Journal of Preventive Medicine, 42, 5, 437-444.