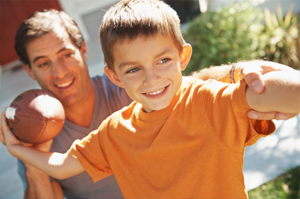 Physical education (PE) in U.S. schools is evolving—what many adults remember as mostly inactive, sports-based PE classes (in which the most athletic kids played and everyone else watched), is gradually transforming into a more fun, inclusive and physically active environment to engage all kids, especially those who may not be as naturally athletic or inclined to exercise. The goal is to improve levels of physical activity through "enhanced PE" classes. Check out the table below for an example of what "enhanced PE" looks like.
Of course, not all schools have yet adopted this approach. And, unfortunately, due to the focus on athletic skill and coordination that still remains in many PE classes, PE is a part of the day that many kids still dread. Here are a few ideas to help transform a PE-hating child into a child who actually looks forward to that part of his or her day.
Improve motor skills. Many PE programs continue to focus on athletic and sports-oriented activities. Often, it is not a low fitness level that holds some children back, but rather below-average motor-skill development. Parents can help their children develop motor skills by incorporating developmentally appropriate activities into a child's day. This includes taking the time together to practice running, swimming, tumbling, throwing and catching. Another way to enhance motor skills for a school-aged child is to introduce sports in a low-stress environment. Choose sports programs that emphasize fun and have flexible rules, short instruction and time for free play.
Increase fitness level. Some kids may struggle in PE due because their fitness level is low. Try integrating physical activities—moderate intensity activities like walking, riding a bike or skateboarding, and vigorous activities like racing and playing tag—into a child's day (every day). This will help continually improve your child's fitness level, which will make the activities offered in a PE class much easier (and more fun).
Enhance self-efficacy and confidence. When a child has struggled in a subject, whether that subject is PE or math, self-confidence wanes, and the child often feels that he or she is just "bad at it." One way to help make PE fun for your child (which is, after all, the point as we try to help kids permanently adopt an active lifestyle) is to help create experiences in which your child feels successful and competent, thus boosting his or her self-efficacy and competence. Consider areas in which your child excels and help translate that into a positive physical-activity experience. For example, is your child really into video games? Consider investing in exer-games (like Wii or Kinect) to help translate hand coordination into physical coordination. Is your child overweight? If so, your child probably also has more muscle mass and may enjoy a resistance-training program and the realization that he or she is stronger than most kids of the same age. Does your child love playing at the pool in the summertime? Maybe he or she would like to join a recreational swim team.
Focus on fun. For kids to enjoy physical activity and PE (rather than avoid it) is has to be fun. While you may not be able to control what activities are offered in your child's school, you can be sure that your child has fun doing the activities that you do together at home. Ensure the fun factor by allowing your child to choose which activities to do, avoiding excess pressure and making sure there is time for free play and child-directed activities.
Advocate for more and better opportunities for physical activity in the school day. Ultimately, the best chance that we have to turn kids on to physical activity is to not only make physical activity a family priority, but also make it a priority in schools. Despite the pronounced benefits of physical activity—including increased academic performance—many schools are cutting PE programs. And many of the PE programs that still exist do little to help kids meet the recommended 60 minutes of physical activity every day. Parents play an important and powerful role in advocating for more and better physical activities in school.
What Does Enhanced P.E. Look Like?
Traditional/Old

Enhanced/New

Curriculum

Skills and rules to play team games
Examples: basketball, football, soccer, baseball

Physical competence and cognitive understanding about physical activity so students can be active for a lifetime
Examples: fitness activities, outdoor education, individual lifetime activities, dance, integrated lessons

Grouping

Large groups
Limited equipment
Athletes are leaders
Has the potential to disenfranchise less fit students and children with disabilities

Small groups
Adequate equipment for active participation
Full inclusion of all students and all students have opportunities for success, not just athletes

Fitness Emphasis

Skill related
Comparison to national norms

Health related
Students engaged in self-testing; applying principles of fitness
Designing an individual program based on personal goals and differing levels of ability
Students learn to maintain and improve physical well-being

Instruction

Teacher-directed
Teacher controls and paces the entire lesson

Teacher as coach/guide
Uses instructional strategies to allow students to progress at individual pace and to self-assess

Social Skills

Emphasis on competition, winning and losing

Emphasis on cooperation, working together as a group, leadership, conflict resolution during active participation situations

Grading and Assessment

Based on attendance, dress, skill level, fitness scores

Based on self-improvement, self-evaluation; peer assessment; skill rubrics
Used to monitor and reinforce student learning

Games

Teacher officiates games, giving feedback on skill performance knowledge of rules; large group games; students waiting in line to play; winning emphasized

Students engage in activities and sports with a health-related fitness component
Emphasis on participation and getting everyone active

Technology

Computers, pedometers, heart rate monitors, other fitness technology
Adapted from Illinois Public Health Institute: Enhanced School-Based Physical Education Fact Sheet: http://nnphi.org/CMSuploads/Bassler%20-Enhanced%20PE%20FactSheet%20_%20September%202011.pdf