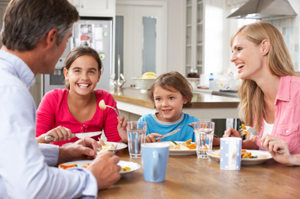 When considering the benefits of family meals, it helps to reminisce back to our own childhoods and what form the family meal took. I remember lively discussions and bantering for our near-weekly dinner at my Sicilian grandparent's house. I can also recall too many nights of frozen dinners eaten on TV trays in front of some cheesy '80s sitcom. While memories of deep mealtime conversations don't come to mind, that's not the case for many families. Some parents have capitalized on the family meal as an opportunity to enrich the lives of their children by teaching them about world affairs or posing conundrums or mental challenges. Others use it as a time to strengthen the family bond and support system. Every night, for example, the First Family discusses the highs and lows of each family member's day.
Many families, sadly, have abandoned the evening ritual altogether. With too many schedules to coordinate, pressures on time, picky eating preferences and the energy required to pull it off, the family meal has become the exception rather than the norm for many families. Sadly, the loss of the family mealtime comes at a hefty price—both for the health of the family members as well as for the stability of the children.
Researchers from the University of Illinois explored just what role the family meal plays in the health status of children and adolescents. They compiled the results of 17 studies, which together assessed the relationship between family meals and eating patterns, obesity and disordered eating in the lives of more than 180,000 children and adolescents. They found that kids who ate at least three meals per week with at least one adult family member had healthier overall eating habits, including consuming fewer sweets, fried foods, and soda and exhibiting lower rates of obesity and eating disorders (Hammons and Fiese, 2011). Other studies also support that eating meals with family is associated with greater consumption of fruits, vegetables and other nutritious foods—especially when the child eats food similar to his or her parents (Sweetman et al., 2011). Family meals also offer parents an excellent opportunity to model healthy eating habits and a healthy relationship with food. In fact, one study found that parents who ate more fruits and vegetables had kids who ate more fruits and vegetables—and the association between parent and child intake strengthened with an increasing number of family meals (Hannon et al., 2003). On the other hand, if a parent gives in to the begging for a "special" meal, the family misses out on the opportunity to broaden a child's tastes and promote the willingness to try new foods.
Kids who regularly eat meals with their families are not only healthier, but they also do better in school, develop more advanced language skills and are less likely to drink alcohol or experiment with other drugs as teenagers (Fiese and Schwartz, 2008).
While many obstacles can get in the way of eating a meal together as a family, parents can make efforts to minimize them. The following is a five-step plan to help organize the family's hectic schedules to make family meals a more frequent occurrence at your house.
Commit to making eating together a priority. That sounds obvious and simple enough, but if you don't commit to at least three meals per week together (or whatever number is doable at your house), then barriers to eating together will become overwhelming and you may fall into the old habits.
Set a time for dinner. Choose a time when everyone is most likely to be present, even if that means you push off dinner until 7:30 or eat earlier at 5:00. Kids can adjust snack times and amounts to make sure that they're hungry (but not ravenous) for dinner. If at all possible, parents should plan their work schedules so that at least one parent is home for a sit-down dinner on most nights. Think twice before signing a child up for yet another activity that will extend into dinnertime.
Plan meals ahead. For most people, the chances of coming home after a long day of work and exerting the mental focus and energy to think up what to make for dinner and then find all the right ingredients are slim to none. Avoid this problem by spending an hour once per week to come up with a menu of meals for the coming week. Consider putting together a family calendar where you write down everyone's activities as well as the planned menu for each day. This way everyone knows what to expect and you can maximize the chances you'll be able to quickly put together a healthy meal for the family on most days.
Shop efficiently. On your weekly shopping trip, buy all the ingredients you'll need for the week so you can avoid having to make repeated trips to the store. Increase the likelihood that your picky eater will actually eat what you prepare by bringing him or her along to the store and offering choices of which healthy foods he or she would most like to eat. (For example, if you're planning a steamed vegetable as a side for a dinner, give your child the choice between carrots or squash or the choice between broccoli or cauliflower. If he or she ultimately chooses not to eat it, don't sweat it.)
Multitask preparation time. The time required to make a meal after a long day can be a major barrier to cooking a family meal, especially when it's much easier to get takeout or go for fast food. Make it easy on yourself by choosing easy-to-prepare meals. And involve your kids in meal preparation. You can speed up meal-prep time, teach them how to prepare healthy foods, and spend some quality family time together and catching up on what's going on in their lives.
Though it may not always be apparent, the effort invested into regular family mealtimes pays dividends throughout a child's early years, adolescence and beyond. It is, after all, one of the most effective ways to raise healthier, happier kids.
Here's a healthy dinner recipe that the entire family will love:
---
Baked BBQ Chicken with Mashed Sweet Potatoes and Honey Mustard Green Bean Salad
Baked BBQ Chicken
4 chicken breasts
1 ½ cup of your favorite kind of barbeque sauce
Preheat oven to 375 degrees. Place chicken in a medium bowl and pour barbeque sauce over the chicken. Mix well until the chicken is coated with the sauce. Place chicken breasts on a baking sheet. Drizzle with olive oil. Bake the chicken in the oven for approximately 40 minutes, or until thoroughly cooked.
Mashed Sweet Potatoes
4 medium sized sweet potatoes
Wash sweet potatoes well. Cut into 1 inch pieces. Place potatoes in pot. Put enough water in pot to cover potatoes. Place on stove at medium-high heat. Cook until potatoes are tender, approximately 30 minutes. Once tender, drain water out of pot. Mash potatoes with fork or potato masher, then serve!
**Spice it up:
-Like pumpkin pie? Try adding cinnamon and nutmeg to potatoes
-Like southwestern flavors? Try adding cumin and garlic to potatoes
Honey Mustard Green Bean Salad
1 pound of green beans, washed and ends trimmed
2 tablespoons of honey
2 tablespoons of Dijon mustard
1 tablespoon of vinegar
2 tablespoons of olive oil
1 teaspoon of salt
1 teaspoon of ground pepper
Place 6 cups of water into a pot and bring to boil. Once water is boiling, put green beans into pot and let cook for 1 minute. Remove pot from stove and drain water.
In a small bowl, mix the honey, mustard, vinegar, salt, pepper and olive oil until well blended. Place the green beans in a medium bowl and drizzle honey mustard dressing over the beans. Mix well until beans are covered.
---
Adapted from "Eat Your Vegetables" and Other Mistakes Parents Make: Redefining How to Raise Healthy Eaters (Healthy Learning 2012)
References
Fiese, B.H., and Schwartz, M. (2008). Reclaiming the Family Table: Mealtimes and Child Health and Wellbeing. Society for Research in Child Development.
Hammons, A.J. and Fiese, B.H. (2011). Is frequency of shared family meals related to the nutritional health of children and adolescents? Pediatrics, 127, 6, 1565-1574.
Hannon, P.A. et al. (2003). Correlations in perceived food use between the family food preparer and their spouses and children. Appetite, 40, 1, 77-83.
Sweetman, C. et al. (2011). Characteristics of family mealtimes affecting children's vegetable consumption and liking. Journal of the American Dietetic Association, 111, 2, 269-273.