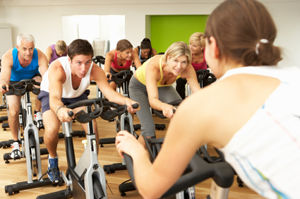 Group fitness classes have changed dramatically over the past 40 years. What was once primarily a "dance" class taught by a cute gal in a leotard with legwarmers has evolved into a highly specialized profession with hundreds of different types of classes taught by extremely qualified instructors. This growth has been fantastic for exercise enthusiasts and the variety of options has drawn a whole new group of people to try out a class, many for the very first time. If you are new to group exercise, the most important place you can put some effort into is choosing the right instructor. After all, a poor instructor can potentially hurt you by not instructing you properly or selecting harmful exercises. Furthermore, a poor instructor can squash your motivation and turn something incredibly fun and rewarding into a very disappointing experience. So, exactly what should you look for in an instructor?
Qualified. Every good instructor has completed some type of training or certification and engages in ongoing continuing education to keep up to date on research and current trends. Look for an individual who holds an accredited group fitness instructor certification from a reputable organization like the American Council on Exercise (ACE). In addition, if you are taking a "specialty" class, ask about the instructor's specific qualifications to teach that particular discipline. For example, if you are taking an indoor cycling class, look for a respected specialized certification, such as Schwinn® Cycling. Do not be afraid to ask the instructor about his or her qualifications. If the instructor has them, he or she will be happy to let you know. If you find the instructor is evasive or defensive in response to your request—keep looking.
Respected. All great instructors have a group of loyal followers who respect them and will be happy to share their experiences with you. Show up at the end of a class outside the room and mingle with some of the participants. You will find this group to be incredibly vocal and forthcoming as to the strengths and weaknesses of the instructor.
Motivating. It takes a special type of personality to keep a diverse group of people interested and moving toward a common goal. It also is true that different things motivate different types of people. Take a minute to think about what type of a person motivates you? Do you like the "boot camp" style of leadership where the instructor is in your face, and pressing you to do more? Or are you more motivated by a calm personality and a steady voice giving you a series of instructions in a gently encouraging manner? There are many good instructors who motivate in many different ways. Find one who will make you work hard and keep you from looking at the clock.
Interested. The best instructors make you feel like you are the ONLY one in the class. They take the time to get to know you and call you by name. They know exactly what your goals are and take extra time before or after class to share specialized tips just for you. You know you have found a gem when an instructor emails or Facebooks you if you miss class.
Take your time finding the right instructor for you, as there is not a one-size-fits-all when it comes to fitness. There are as many different types of instructors as there are different types of classes, so set your standards high. Instructors can make or break your exercise experience and you will be investing your valuable time and money in them. You'll know when you've found the right instructor, because you won't be able to wait to get to class.