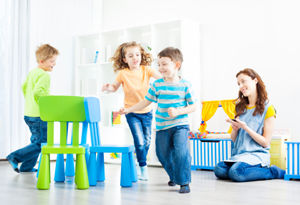 As winter lingers on for most of the country, many parents may struggle to find fun indoor activities to keep their kids busy and on the way to achieving the recommended 60 minutes of physical activity per day. The unfortunate reality is that cold weather leads to decreased activity levels of most children. Fortunately, it doesn't have to be that way.
You can easily incorporate physical activity into your winter routine. Not only does this effort help your kids to be healthier overall, it also helps them burn energy, which makes for a much more sane season for everyone. Here are 10 tips for a more active winter:
Play. Parents state the goal (e.g., "I want you to break a sweat.") and let the kids decide on the activity. Kids are naturally curious and creative. With modern technologies and the advanced features of many toys, today's kids often miss out on the opportunity to direct play. If parents share the goal and any necessary rules (e.g., you cannot throw balls in the house), the kids will come up with some surprisingly innovative indoor games. If they get stuck in a rut, consider suggesting a scavenger hunt or hide and seek, or set a timer to see who can run up and down the stairs the most times in one minute (check for safety hazards and age-appropriateness before implementing this one).
Exergaming. The American Academy of Pediatrics recommends two or fewer hours per day of screen time. Instead of sitting like a zombie in front of the TV, kids can turn sedentary "screen time" into action-packed, fun-filled "screen time" with interactive, make-you-move video games from Wii, Kinect, Dancetown and Xavix. Research suggests that not only do kids enjoy the games and get a great workout, but they also are fun and effective for adults, too.
Kid Gym! There is no better season to get in some evening family time by frequenting a gym that offers kids' activity classes at the same time as the adult classes. Or, create your own in-house kid gym with a mini indoor trampoline, a hula hoop and a stability ball. You can even throw in some animal-inspired kids yoga [link to Jessica yoga youtube video].
Join a Sports League. Winter is a great time for the kids to try out a new indoor sport like basketball, indoor soccer, volleyball or racquetball. Check out your local Parks and Recreation schedule to see what activities will best fit with your child's interest and family schedule.
Frequent the Indoor Playgrounds. Many malls and other public facilities have indoor playgrounds where children can jump, climb and meet new friends. They break a sweat and further develop social skills. Older kids may prefer rock walls and fitness facilities.
Learn to Swim. Learning how to swim is an essential life skill. If your child is five years or older and does not know how to swim, winter swimming classes are a great solution to help him or her get active and start the process of becoming water safe. Younger kids and those who already know how to swim can also benefit tremendously from a few hours spent in the warm waters of an indoor community pool on a cold winter day.
Dance! Dancing is a great way to have fun and increase physical activity—and most kids love doing it! Put on the kids' favorite dance music and let them bust out their moves. You could even throw in a mini dance lesson to help them expand their repertoire.
Family game night—Twister. Consistent family time goes a long way in raising healthy, grounded and successful children. You don't have to sit around talking politics and world affairs to get the benefits. Why not increase everyone's physical activity (and fun!) by incorporating active games like Twister into your "family time" routine?
Clean the house. You keep telling the kids to do their chores! It turns out that doing household cleaning like wiping counters, vacuuming and making the bed burns a lot of energy in addition to helping make the house sparkle.
Venture outside. While it's important to find ways to stay active indoors, we would be remiss if we failed to mention how much fun kids can have in an outdoor winter wonderland. It is well worth the effort to occasionally bundle the kids and get them outside to enjoy winter festivities like ice skating, sledding, skiing and snowball fights.