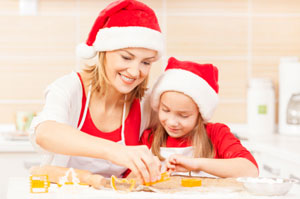 For many of us, the holiday season means sharing our traditions of food, including baking or making desserts that have been passed down many generations. And getting your kids involved in the kitchen is a great way to spend time with them and pass on your favorite recipes. Here are some easy ways to put a healthier twist on these time-honored traditions of baking for the holidays, so you can indulge without feeling like you've gone overboard.
Add whole grains!
With the huge variety of whole-grain flours available, this is an easy substitution for unbleached all-purpose white flour. Here are three great choices:
Whole-wheat flour: Of all the whole-grain flours, whole-wheat flour is probably the easiest to find in most supermarkets. Because it can give baked recipes a heavier texture, first try substituting 1/3 to 1/2 of the flour with whole-wheat flour. A recent addition to the whole-grain flour market is white whole-wheat flour, which is lighter in both color and texture than whole-wheat flour. It is derived from a naturally occurring whiter version of wheat, but still has all the great fiber and nutrients, which makes it a great option for desserts requiring a lighter crumb such as cakes.
Brown-rice flour: Often used in gluten-free baking, brown-rice flour is made from the whole rice kernel, which gives it a nutty flavor. It can be a little gritty so look for superfine or finely ground on the label. Brown-rice flower is great for things like gooey brownies, but should be used in combination with other flours for things like cakes and cookies because it has the tendency to produce a gummy texture.
Oat flour: Although it is available at specialty markets, oat flour is surprisingly simple to make at home using a food processor and some old-fashioned rolled oats. Place the oats into the food processor and pulse until flour consistency. Try using oat flour in your favorite cookie recipe (even beyond oatmeal cookies!) or for making deliciously whole-grain pancakes or waffles.
Cut the fat!
Try applesauce instead of butter. While it may sound odd, substituting applesauce for fats in things like cakes and brownies actually works! For example, try substituting applesauce for half of the oil or butter in recipes for quick breads such as banana, pumpkin or zucchini bread.
Use low-fat dairy products. If your bread-pudding recipe calls for heavy cream or whole milk, use nonfat or 1% milk instead and you won't miss a thing! For coffeecake recipes, substitute Greek yogurt for sour cream for a lighter yet tangy alternative.
Cut the sugar!
Cut back on the frosting. When making a cake or cupcakes, cut back on the amount of frosting you use and save some of those calories. After all, a small dollop of frosting (as opposed to a smothering) gives the taste and look of a cupcake without the extra sugar. (Quick tip: To frost your cupcakes like a pro, place the frosting in a gallon-size freezer plastic bag, but don't zip the bag. Cut one of the corners and push your frosting toward that cut corner. Now, you can pipe your frosting like a pastry chef and control the amount your putting on those cupcakes!)
Use fruit. Using fruits in your desserts is a great way to cut back on the sugar. Baking or roasting fruit brings out this natural sweetness and can transform a simple apple or pear into a delicious dessert. For example, bake pineapple slices in the oven at 450 degrees for 15 to 20 minutes, until golden brown. Serve with a dollop of low-fat vanilla frozen yogurt and a drizzle of chocolate sauce for a tropical taste during the holidays.
Give this recipe a try and see how easy—and tasty—it can be to incorporate these healthy tips.
Yummy Oatmeal Banana Cookies
1 ripe banana
1 cup of rolled oats
1/3 cup of flaxseed meal
2 tablespoons of olive oil
2 tablespoons of maple syrup
½ teaspoon of salt
2 teaspoons of vanilla extract
1/3 cup of chocolate chips
1/3 cup of dried cherries
Preheat oven to 350 degrees. Mash banana well with olive oil and vanilla extract. Add rolled oats, flaxseed meal and salt to the banana mixture and mix until well combined. Add in chocolate chips and dried cherries. Drop spoonfuls of cookie dough onto baking sheet and bake for approximately 12 minutes.
Check out these recipes for more healthy holiday meal ideas!