It's a bird. It's a plane. It's yoga performed in mid-air? As an avid yogi, when I hear the words "send your practice into flight," I immediately think of transitioning into dakasana (airplane pose). Aerial yoga, however, gives a whole new meaning to yoga asanas gone airborne. The idea of being suspended while exploring postures truly piqued my curiosity, so I set out to experience what it's like to reap the many research-supported benefits of yoga in an entirely new way.
What Exactly is Aerial Yoga?
Aerial yoga combines the physical practice of yoga with elements of acrobatics through the use of a suspended hammock constructed out of the silk material that is often used in aerial performances.
My Experience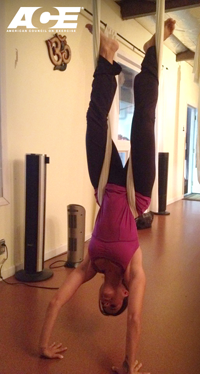 For my airborne activity adventure I headed to Aerial Revolution in San Diego, Calif., for their 90-minute aerial yoga class offered on Sunday mornings, which on this day was being taught by Monica, a registered yoga teacher with a wealth of knowledge and truly supportive teaching style. I was one of six students, which allowed for an abundance of personalized instruction that was especially helpful since most of us had not ever taken an aerial yoga or aerial silks class.
With this in mind, Monica spent the first few minutes of class sharing safety information and how to correctly move in and out of the fabric from one pose to the next—something of critical importance, especially as we explored inversions and backbends. We then warmed up on our yoga mats, performing several cycles of preparatory poses, which gave us each the opportunity to review and refine alignment as well as focus on breath work before heading into the air. After the warm-up, we moved to our individual silk hammocks and for the next hour, experienced a combination of strengthening postures and deep stretches that systematically opened and challenged every area of the body. The use of the silks made it possible to explore certain poses in greater depth, such as cobbler's pose and downward-facing dog. It also enabled us to experience new sensations and greater range of motion in poses like crescent lunge and warrior II, which were performed in a standing position using the fabric like a strap to intensify the stretch.
A great highlight from the class was the time spent practicing handstand, a posture that still eludes me in my own practice. Being in this challenging inverted pose with the support of the silks wrapped around my legs gave me the confidence and ability to focus my attention on refining my hand placement and lifting my lower extremities with control by using the strength of my core. This is normally difficult to do without external support or assistance, because it is easy to become sidetracked by simply doing everything you can to try not to topple over.
What I Wore
Much like other yoga classes, comfortable clothing that allows you to move without restriction is recommended. I personally find that formfitting clothes tend to work best, especially when exploring inversions, so I opted to wear a fitted tank top paired with a pair of stretchy black pants that allow for maximum comfort and range of motion.
What it Worked
This particular class combined a variety of yoga postures, including everything from half-moon to triangle pose, which allowed for a total-body workout that focused on both strength and flexibility. The use of the supportive hammock enables you to feel confident and experience less joint compression when exploring inversions like handstand, leading to a greater level of comfort and enjoyment in the pose. Furthermore, the stretchy nature of the material enables you to experience greater depth and range of motion when moving into hip-opening postures like half pigeon and backbends like bow pose.
Who Is it Best For?
Although a great deal of instruction is provided regarding proper alignment in each pose, some yoga experience is recommended for this particular class. While the use of the silk hammock can help make other yoga poses more accessible, it also adds a new degree of challenge to other postures. Experience using aerial silks is also a plus, but it is not required because there is no climbing or knotting involved.
What to Watch Out For
Safety is of the utmost importance when it comes to aerial yoga, so it's crucial to seek out a qualified instructor who will take the time to carefully review how to properly get in and out of the silks, as well as how to make adjustments within the fabrics to ensure proper alignment and integrity within each pose. It's also important to ensure that the instructor is a registered yoga teacher (either an RYT or an E-RYT) with Yoga Alliance. Someone who has completed such an extensive course of study will be able to guide you through various physical postures while also offering modifications, progressions and/or alternate poses that best suit your ability level.
Final Word
If a fun, unique class that challenges your body in ways you've never thought possible appeals to you, then consider giving aerial yoga a try. And if the notion of creatively exploring new movements while enhancing both strength and flexibility wasn't enough to get you excited about going airborne, the pure bliss you'll experience at the end of class in savasana (corpse pose) while suspended in air enveloped in a cocoon of fabric is truly a sensation like none other!