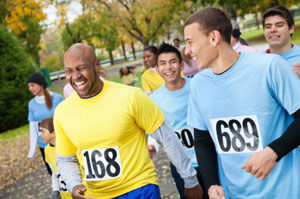 If you are reading this blog post, you have much to be thankful for. The fact that you have eyes that can see, are educated enough to read, own or have access to a computer or mobile device, and are familiar with ACE puts you in an elite and fortunate group. As fitness enthusiasts, we enter competitive events to challenge ourselves. Walkers train to cover long distances, runners train to master a marathon, and elite athletes strive to conquer events like ultra-marathons or Ironman-distance triathlons. This Thanksgiving season, how about channeling your competitive energy into doing something good to support an individual or a cause you believe in? You can use your healthy body to make a difference, and once you are inspired, you'll likely want to bring along a training buddy or two to make it even more fun and multiply your efforts.
Turn Fitness into Thankfulness
Endurance Charity Program – Take your next race beyond a personal record and make your effort count for someone else! Whether you run alone or build a group and combine your fundraising efforts, you can make a big difference to a charity's financial bottom line and support individuals the charity serves along the way. Check out Finish Chelsea's Run in San Diego, Calif., the Leukemia & Lymphoma Society's Team in Training (throughout the nation) and more great events in your area!
Cycle for Survival – Is spin your thing? Launched by an avid indoor cyclist and continued by her widowed husband, Cycle for Survival events are held across the nation at 10 Equinox health clubs. These indoor cycling events are both emotionally and physically exhilarating, and raise funds for rare cancer research at Memorial Sloan-Kettering Cancer Center in New York City. Build a team of riders or join one!
Sports Buddies – A program of the Big Brothers/Big Sisters organization, Sports Buddies is for men and women who enjoy sports and want to share this passion while also making a positive impact on a child's life. This activity-based mentoring program provides lots of opportunities to play sports and/or watch sports with a little "buddy" each month. Sports Buddies is a regional program, so contact your local Big Brothers/Big Sisters office. Check out this sample program in Denver, Colo.
Take a Four-legged Friend for a Walk – Dogs in animal shelters are confined to cages all day. Being isolated can cause health and behavior problems in dogs that affect both their quality of life and their chance for adoption. After completing an orientation, volunteer dog walkers may drop in during regular business hours to walk and play with the dogs. Here are instructions on how to find opportunities at a local animal shelter near you.
VIPS in National Parks – Volunteers in Parks (VIPs) work with National Park Service employees and partners in the 390 parks across the country. There are plenty of activities that volunteers can help out with, including building, painting, construction, guiding nature walks, maintaining trails and serving on bike, horseback or beach patrol.
Eco-running – Samuel Huber from Wisconsin runs to help the planet. Huber is a physical-education teacher and avid runner who believes that by picking up litter on his runs, he can make a difference in this world and create an environment to be enjoyed by all. Sam's website is packed with tips about eco-running and green exercise.
Challenged Athletes Foundation (CAF) – This organization supports the endeavors of challenged athletes and provides unparalleled sports opportunities, like Operation Rebound for military personnel and Catch a Rising Star, for individuals who have suffered a traumatic injury, have a physically impairing disease or were born with a congenital impairment resulting in a physical disability. Based in San Diego, CAF welcomes volunteers.
Parks and Recreation – Many parks and rec centers are looking for volunteers to teach a variety of classes and activities. Check your local area for opportunities like Shape Up New York.