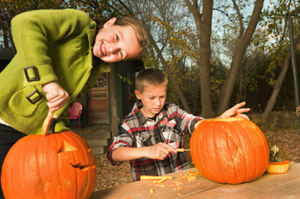 Little ghosts and goblins are getting ready to line the streets, begging friendly neighbors to hand over the sugary Halloween goods in exchange for a "trick or treat." The preparations begin long before October 31st, as children choose costumes, attend Halloween parties, visit pumpkin patches and carve Jack-O-Lanterns. Inevitably, each fun Halloween adventure or festivity is accompanied by Halloween's most recognizable hallmark—candy. And lots of it. While getting into the spirit of Halloween is a thrill for kids and parents alike, a few small changes to the annual routine can help parents stay on track in their efforts to raise healthier eaters. Here are five tips to get you started:
Minimize the "candy association." If you ask kids what they think of when they hear the word "Halloween," most will say "candy." Parents can actively try to lessen this association by focusing on the non-candy-related joys of Halloween. How about carving Jack-O-Lanterns together and baking the pumpkin seeds? Eat them plain or incorporate them into Maple-Nut granola or any of a number of recipes available at acefitness.org/recipes. Or package fruits and vegetables into fun, healthy Halloween designs.
Make your home a semi-health haven. This is one holiday where it pays to procrastinate. Put off buying the Halloween candy until right before the trick-or-treaters arrive. That way, you can stick to your usual routine of healthy mealtimes without making candy a regular post-dinner "treat" or after-school snack. When you do get to the store, buy the kids' least favorite candies so they will be less likely to want to eat them. Or, better yet, try to choose "less-unhealthy treats" like sugar-free gum, fruit chews or lollipops, or the smaller size of the "better" chocolate candies such as mini Milky Way, Mini 3 Musketeers or Tootsie Roll Midgets. You could also avoid the sugar altogether and give out non-edible trinkets like mini Play-Doh, stickers, bouncy balls, eye balls or tiny storybooks.
Walk it. One good thing about Halloween is that it encourages kids to get outside and get some physical activity by walking through the neighborhood. Take advantage of this fun-filled family time and the great opportunity to exercise together by covering a large area while out trick-or-treating—and encourage the kids to sprint to the next doorstep (while making safety a top priority, of course).
Plan for post-Halloween candy "storage." Most kids will return home from Halloween with more candy than a sensible person might eat in a year. Help your kids develop a post-Halloween candy plan so that the Halloween candy is not a regular part of their daily intake for the rest of autumn and through to the next round of over-indulgent holidays. You might tell the kids that they can have as much of the candy as they want on the night of Halloween, but what remains will be donated to the military overseas (check out Operation Gratitude and Operation Shoebox) or a local food pantry, or tossed or frozen for later. Freezing not only puts the candy out of site, but frozen candy takes longer to eat, and if the kids opt to wait for it to return to room temperature, the urge might pass.
Accept the inevitable. Kids and candy go hand-in-hand at Halloween. Efforts to restrict, deny or nag about candy intake will be countered with battles, sneaking more candy and bingeing on the stuff wherever it is available (which is most places this time of year). Instead of fighting it out, parents should accept that their children's candy intake will be more than ideal this time of year. Take comfort in the fact that the Halloween season lasts only a couple of weeks. If your family follows a generally healthy and balanced eating plan the rest of the year, Halloween-time indiscretions will have a marginal impact on a child's overall health and well-being.
For fun and creative ways to keep your kids active, check out these Halloween-inspired activities that are sure to get them in the holiday spirit!